C olor experts Pantone named turquoise The Color of 2010. According to their press release: "Combining the serene qualities of blue and the invigorating aspects of green, Turquoise evokes thoughts of soothing, tropical waters and a languorous, effective escape from the everyday troubles of the world, while at the same time restoring our sense of well being." It's one of my favorite colors, so that sounds good to me!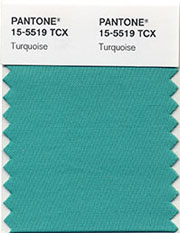 (Remember what the Color of 2009 was?)
I've been hearing rumblings around the blogosphere, though, that turquoise may already be a little too popular. One reader responded to Pantone's announcement by asking, "Hasn't it already been the dominant color of 2008 and 2009? This seems like old news."
Another said she worries that it'll become "the avocado green of 2010"–so trendy now that it'll be "like a time-stamp" that dates rooms like these when we look back on them from 2020.
So I started wondering. Is everyone getting tired of the bright blues we've been seeing everywhere? Since I like them so much, I admit I'd like to think they're classic enough that there will always be a place for them in my house and wardrobe.
I believe we should decorate with things and colors we love and not just what's popular at the moment. I won't be getting rid of my turquoise any time soon. But trends do affect the way our homes look over time. They're hard to escape.
It reminds me of a friend who got married in 1988. She told me she did everything she could to make her wedding look "classic and timeless." Now she looks back on it and laughs because it screams "late '80s." But she didn't see it at the time.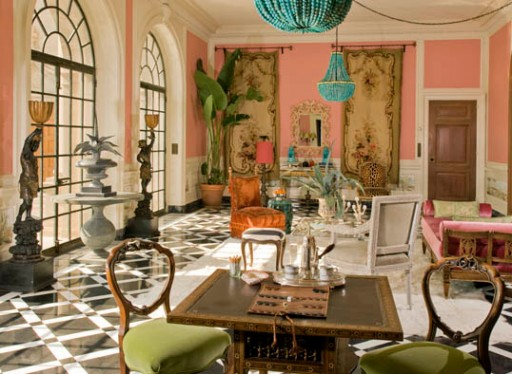 Photo credits: House Beautiful, Southern Accents, House of Turquoise.
I thought I'd see what you guys think about it. Is turquoise getting too trendy? Are you tired of seeing it everywhere? Has it lost its freshness? Or do you consider it and its sister shades Tiffany and Robin's Egg Blue to be classic shades that will never be "out"? Discuss.
New Series Alert! Every Tuesday for the next 10 weeks, we'll discuss some of the hot trends that might be on their way out. Got a suggestion for one we should vote on? Let me know!
(Visited 6 times, 1 visits today)