As soon as we got home from Disney World a few days ago, we started decorating the house for the holidays. Out with the gold and orange from fall–in with the red and silver! There's something so cheery about bright Christmas red, especially this time of year when it's cold and bleak outside.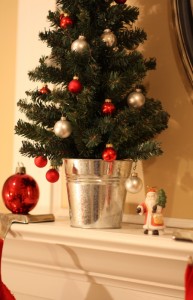 I used to collect Santas, so I have lots of Santa figures sitting around the house, like these on the mantel.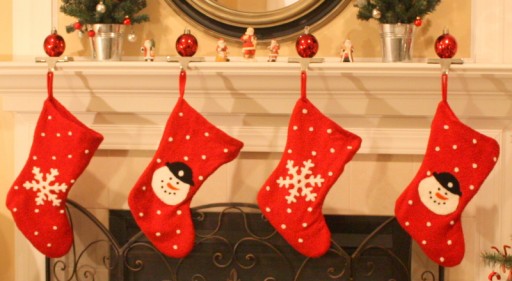 My 7-year old daughter Lily loves to decorate for Christmas, and she always has lots of suggestions. It was her idea to put wreaths in the square windows on either side of the fireplace this year. I don't know why I didn't think of that before!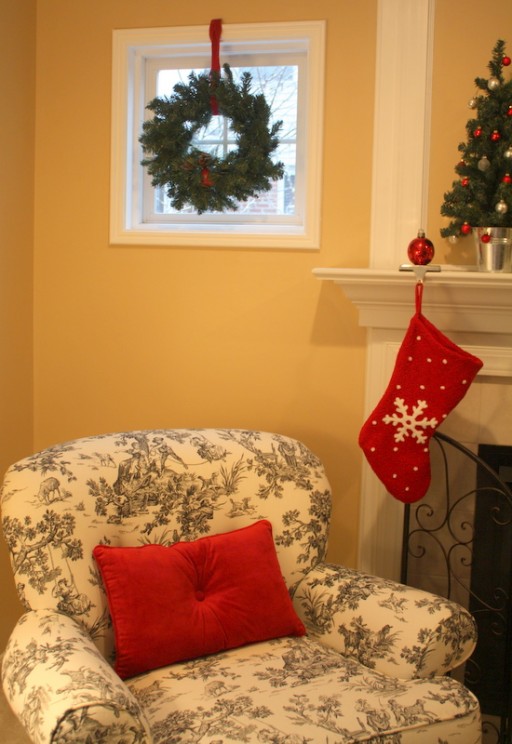 Look closely and you can see the snow falling outside the window.
Lily says, "Decorating is my favorite part of Christmas–except for opening presents, of course!" (Jake, my 14-year old, isn't quite as enthusiastic about the decorating…or about getting his photo taken for the blog!)
Another idea she had: "Take a picture of me looking through the wreath!"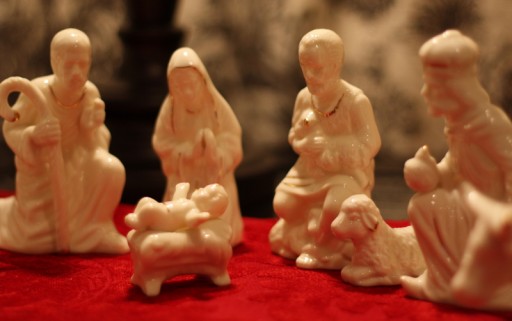 When I was growing up, my family didn't really do the Christmas tree thing. They didn't teach us to believe in Santa, either. Some years the Nativity was the only real decoration we had–at least until I got old enough to start decorating the house myself!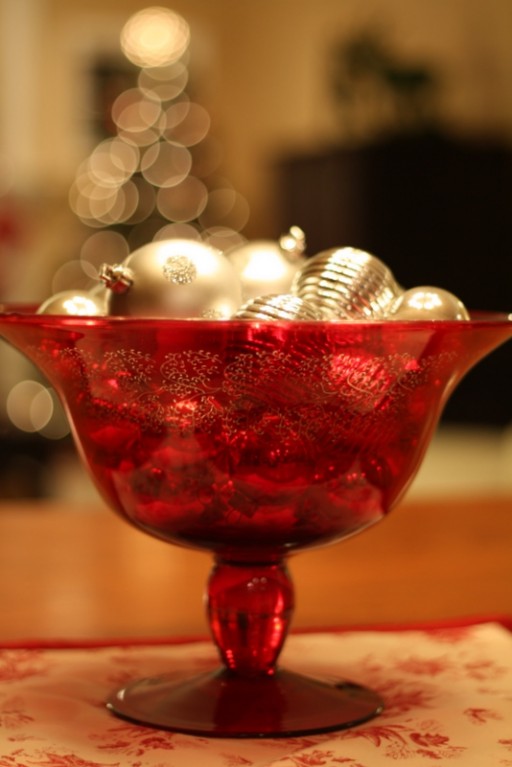 I'm a simple girl at heart, and so are my Christmas decorations, as you can see by my kitchen table centerpiece. Nothing fancy here. Just some silver ornaments in a red bowl.
I try not to be a perfectionist about the tree like I used to be. Now I let the kids do most of it themselves. (Okay, full disclosure: I moved some of the ornaments around when they were done, and they caught me doing it. Lily promptly moved everything back the way it was.)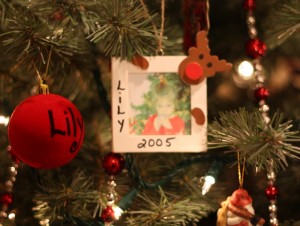 We always watch a Christmas movie while we decorate, and this year it was Holiday Inn. I really need to do a Movie Monday post about it someday. (Did you take the Christmas-Movie Quiz yet? How many of the houses did you recognize?)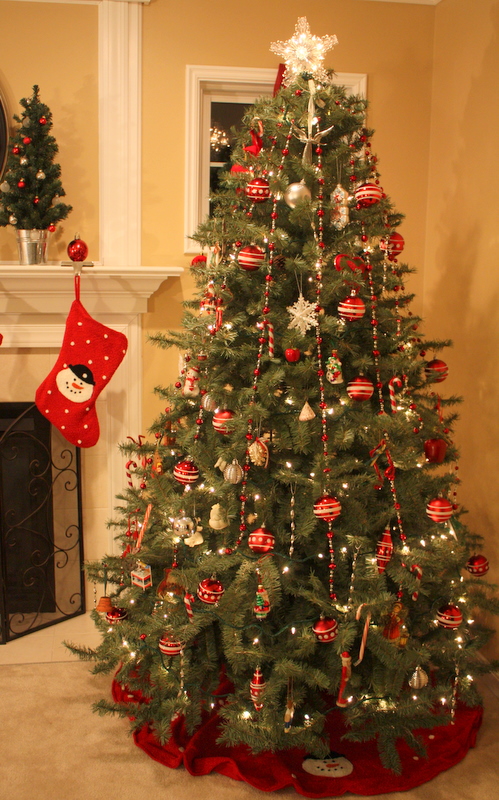 We still haven't hung the lights outside, and Christmas is only a couple of weeks away. By the time I'm ready for Christmas, it'll be Valentine's Day…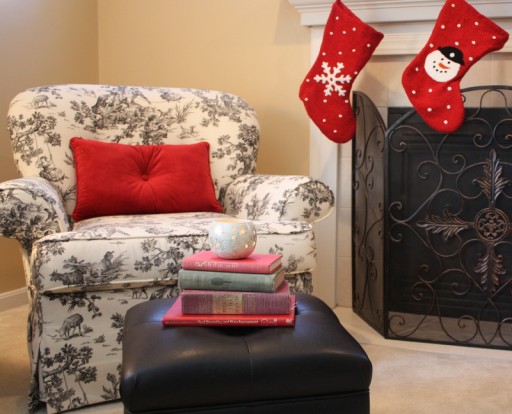 I love snowy days like this. All I want to do today is sit by the fire with some hot chocolate and read.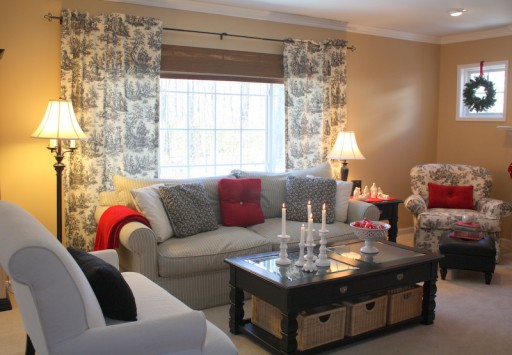 Connected to the family room is our kitchen. I love my snowman plates from Crate & Barrel, and my apothecary jar from Pier One: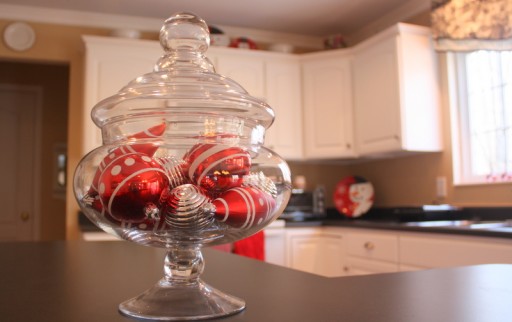 I actually bought this cute Santa cookie jar to give to someone else as a gift last Christmas, but I liked him so much, I ended up keeping him (don't tell!):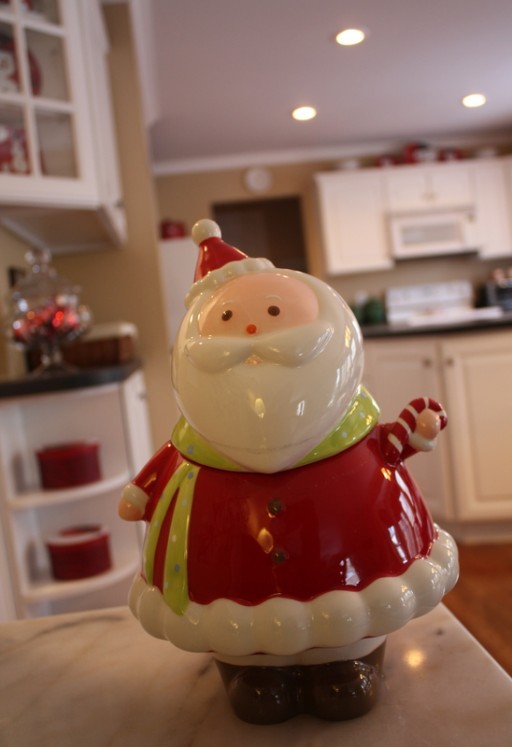 Check out pics of my family room decorated with orange for fall and blue for summer if you want to see how it changed through the seasons.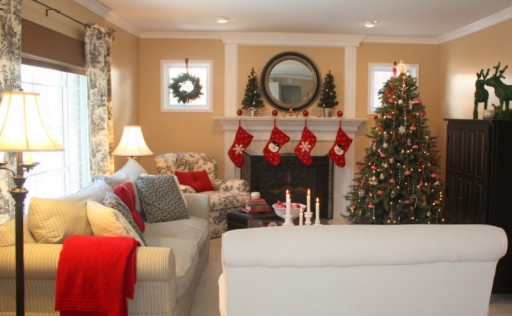 UPDATE: My Hooked on Holiday House Tours blog party has begun. Come see my dining room–and how everyone else is decorating this year!

Thanks to the talented Amy of Living Locurto for designing this button for us. Feel free to add it to your blog if you're participating!
Some other parties that you won't want to miss:

If you're hosting one, too, please leave a comment to let us know!
(Visited 1 times, 1 visits today)