Remember the famous blue door that belonged to Hugh Grant's character in the 1999 romantic comedy Notting Hill? When the movie was filmed, it actually belonged to Notting Hill writer and director Richard Curtis. After it became such a hit (the highest grossing British film to date, in fact), Curtis sold his home at a nice profit.
Here's how it looked in the opening credits of the film: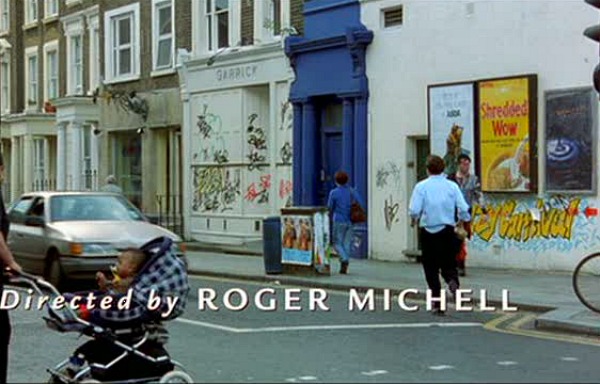 The new owners became tired of all the attention their famous blue door received, however. It was auctioned off for charity, and a nondescript black door now stands in its place.
The narrow flat that Will Thacker (Grant) shared with his grubby Welsh roommate Spike (Rhys Ifans) in Notting Hill was nice but fairly modest. You can see photos of the sets created for the movie interiors here.
According to an anonymous source, the real thing is much more grand, and it's on the market for £2.5 million. Which means–hello!–we get to peek inside and see what was really behind that blue door.
I had heard that the real house was nothing like the one in the movie. That it was spacious, open, and bright. But even knowing that, I was still surprised by the amount of light and space here.
The real estate listing describes it as a "converted chapel with linked cottage."
Here's the original chapel door, which is at the back of the house, off the garden patio:
Update: The listing page for the home has recently been removed, so it may have already sold.
Which interior do you like better–the movie version or the real thing? To see more photos of the sets used in the Hugh Grant-Julia Roberts romantic comedy and learn more about them: Notting Hill: The House with the Blue Door.
(Visited 63 times, 1 visits today)