When I went on a rant about laundry rooms earlier this year, telling you how I hate when they're in an inconvenient spot near the garage or kitchen, some of my readers from Australia commented that they wouldn't want them anywhere else. They don't use dryers as much as we do in the States, so they need their laundry as close to the back door–and clotheslines–as possible. My second-floor laundry room wouldn't work for them.
Hanging clothes out to dry isn't even an option for me. My neighborhood has a strict Home Owner's Association (HOA) that will send you unpleasant letters, followed by a fine. A lot of communities believe that a neighborhood filled with clotheslines will look so bad, it'll affect their real estate values.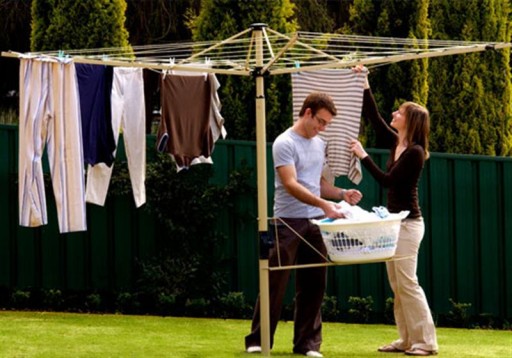 Look how much fun this couple has with their clothesline!
The LA Times' article "Is Your Clothesline Illegal?" reports that some homeowners, calling themselves "right-to-dry" activists, are fighting back. They point out that clothes dryers hog 6% of the electricity used by U.S. households, which isn't great for the environment or utility bills. Do you use clotheslines? Do your neighbors?
(Visited 45 times, 1 visits today)