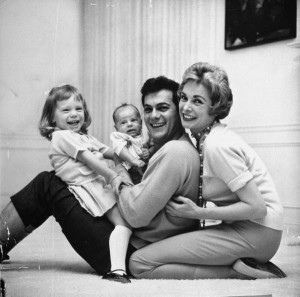 Tony Curtis and Janet Leigh were one of Hollywood's Golden Couples in the 1950s and early '60s. Who could forget Tony Curtis in movies like Some Like It Hot (a personal favorite of mine), or Janet Leigh in Psycho? This old Life magazine photo was taken of them in 1959 at home with their daughters Kelly and Jamie Lee.
The contemporary California home they lived in–which they nicknamed "Camp Curtis"–is on the market for $1.295 million.
According to the listing by Marc Lange of Capitis Real Estate, the 3,204 square-foot house is in the Movie Colony neighborhood of Palm Springs. There are 5 bedrooms and 5 baths.
I was asked to remove the photos but you can still see them at the LA Times. 
Go to Celebrity Houses to see more famous houses. Most popular this week: Rachel Zoe and Coco Chanel.
(Visited 37 times, 1 visits today)