Welcome to Hooked on Fridays, a blog party I host at the end of each week to celebrate the things that make us happy. I have kept "inspiration files" for years of rooms that I love. As I was going through the photos today, I realized that a disproportionate number of them featured built-in bookshelves. Here are a few that I liked because the homeowners found ways to incorporate them in creative ways:

Maybe I love bookshelves so much because they hold two of my favorite things: books and family photos. (Photos via BHG and Elle Decor.)
Now it's your turn to tell us what you're hooked on today! If you have something to share with us on your blog, then add your link below. Just please be sure to:
Add the permalink to the specific blog post, not your general blog address.
Link back to the party from your post so that your readers can come and see what everyone else is talking about today!
Double-check to make sure your link works and goes to the right page so it doesn't get deleted! If you come back and see your link is gone, re-read these rules and try again.
Hooked on Fridays Participants
Powered by… Mister Linky's Magical Widgets.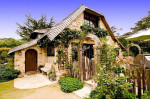 Welcome to Hooked on Fridays, when we celebrate the things that make us happy. Here's what got my heart pounding a little harder today: this…
Now that I've got your attention, let me say: I love a good fall wreath. But lately I've noticed how many of them just look…