My favorite reality shows are the ones that feature talented people doing what they're best at, and Flipping Out fits the bill. It's fun to see designers like Jeff Lewis and Ryan Brown at work. It's the third season of the show, and their original business of flipping houses together is no longer as lucrative, so they're doing more design work for clients instead.
The L.A. Times recently featured Ryan's home in California. We've gotten glimpses of it on the show, and it always left me wanting to see more.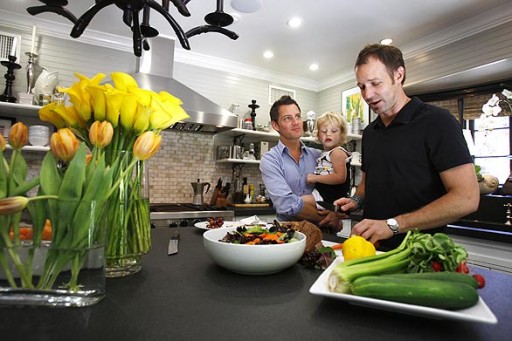 Here are Ryan and his partner Dale Monchamp (who was an interior designer himself before becoming a chef) in their kitchen with their adorable daughter Chloe.
If you've seen the show, then you know how Jeff Lewis likes to teach Chloe to say funny things. If Jeff asks what she wants to drink, he taught her to say, "Chardonnay!" "Where do you want to work when you grow up, Chloe?" "Hooters!" He thinks this is hilarious. (Ryan, not so much.)
For the large center island (it seats 10!) they used river-washed black granite.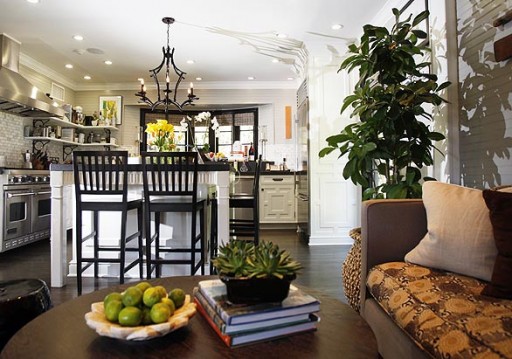 The living room: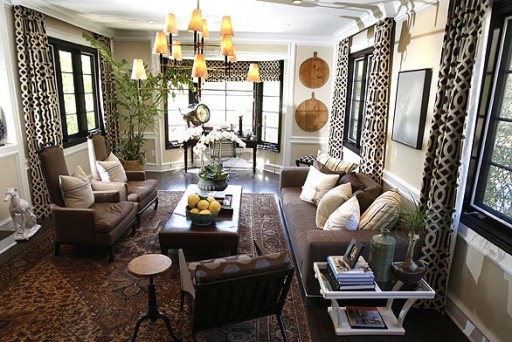 The dining room: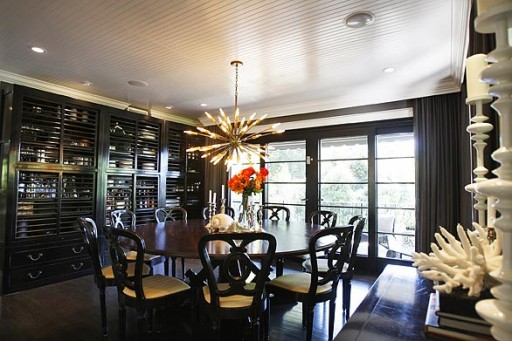 The master bedroom: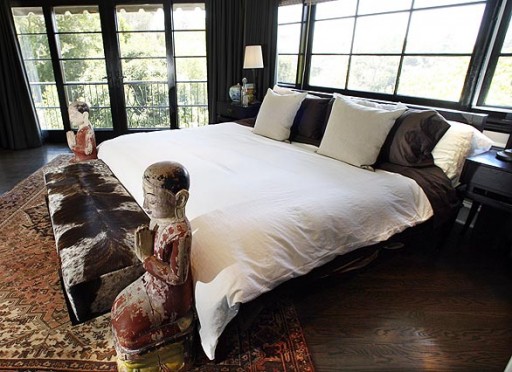 The master bath:
One more shot of the kitchen, just because I love it so much. This is what my kitchen wants to be when it grows up (and starts earning its own paycheck):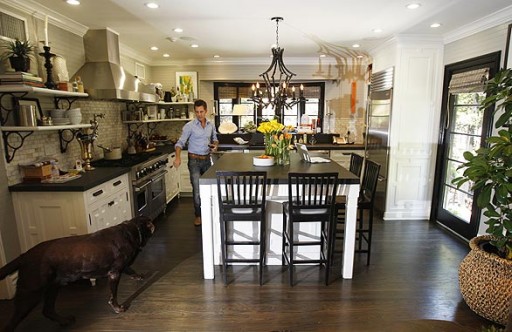 Jeff and Ryan haven't been getting along very well this season (<–understatement), and it looks like they might be going their separate ways. If they do, I hope Bravo will give Ryan his own show (Andy Cohen, are you listening?!).
Ryan has a blog, Brown Design, where you can learn more about his current projects. Check out the L.A. Times article for all the beautiful photos and more information about his home. Or go to the official Flipping Out page on BravoTV.com to learn more about the show.
UPDATE: Did you see the cast reunion show? We're discussing the Jeff Lewis-Ryan Brown throw-down here. Oh, and I posted photos of some rooms that Ryan designed for his clients here if you missed it!
(Visited 8 times, 1 visits today)