Welcome to Hooked on Fridays, a blog party I host at the end of each week to celebrate the things that make us happy. One thing that never fails to make me smile is a colorful entry door. I'm tempted to paint mine something fun and bright, but I'm not sure what color I'd go with. Right now I've got a very basic and boring dark-green door. Yawn. I'd much prefer a yellow door with character, like the one above. Or a cool and modern blue like the one below.
Not sure I'd be up for a pink door, but I sure did like it on this Victorian Painted Lady that I took a tour of last year (if you missed that post, click here to see it):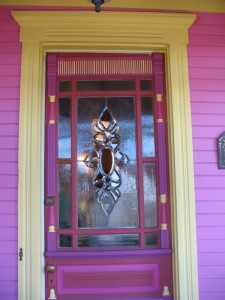 It looked even prettier with this sweet girl standing next to it (that's my daughter Lily, who was excited to see a door that was painted in her favorite colors):
What color is your front door? (Yellow door photographed by Anna Kern. Blue door via Domino.)
Don't forget–today is The Inspired Room's Beautiful Life party, too! She's having a Lisa Leonard giveaway today.

Now it's your turn to tell us what you're hooked on today! If you have something to share with us on your blog, then add your link below. Just please be sure to:
Add the permalink to the specific blog post, not your general blog address.
Link back to the party from your post so that your readers can come and see what everyone else is talking about today!
Visit as many of the other participants as possible and leave comments! That's what a blog party is all about!
Double-check to make sure your link works and goes to the right page so it doesn't get deleted! If you come back and see your link is gone, re-read these rules and try again.
Hooked on Fridays Participants
Powered by… Mister Linky's Magical Widgets.
(Visited 51 times, 1 visits today)