Welcome to Hooked on Fridays, a blog party I host at the end of each week to celebrate the things that make us happy. Our niece and nephews came to spend some time with us recently, so we took them to an old-fashioned candy store in a nearby town. We all admired the ice cream-cone castles in the windows: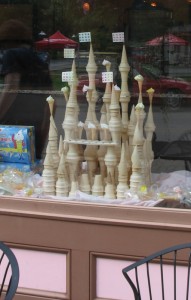 Inside, my niece Elizabeth definitely looks like "a kid in a candy store."
My son Jake (far end) and my handsome nephews Kurt and Evan had root-beer floats at the counter:
The candy shop was great, but what was really special was having the kids with us. They live 5 hours away, so we don't get to see them as much as we'd like. The cousins are all the best of friends.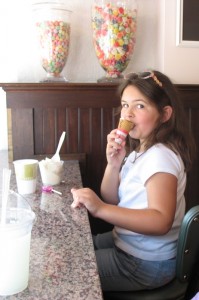 The store is fairly new. It used to be an old, musty and dusty antiques store that gave me sneezing fits. I could hardly believe it was the same place! They did a beautiful job creating a new candy store with old-fashioned charm. I love the original ceilings:
Kids, we miss you already! Come back soon and Aunt Julie will take you out for more candy and ice cream. (I'm not above bribing them with sugar if it gets them here more often!)
I'm linking this post to Melissa's Beautiful Life party at The Inspired Room because my nieces and nephews make my life beautiful.

Now it's your turn to tell us what you're hooked on today! If you have something to share with us on your blog, then add your link below. Just please be sure to:
Add the permalink to the specific blog post, not your general blog address.
Link back to the party from your post so that your readers can come and see what everyone else is talking about today!
Double-check to make sure your link works and goes to the right page so it doesn't get deleted! If you come back and see your link is gone, re-read these rules and try again.
Hooked on Fridays Participants
Powered by… Mister Linky's Magical Widgets.
I have to admit, I can never get enough pretty things for my kitchen and dining room tables. I have no self-control when it comes…
Welcome to Hooked on Fridays, a blog party I host at the end of each week to celebrate the things that make us happy. I…