Here's how I'm dipping my toe into fall–with these glass pumpkins in my dining room. I'm not quite ready to ditch all of my happy summer yellow and turquoise in the rest of the house yet, but I'm working my way into it. Today at The Inspired Room, Melissa is hosting a Fall Nesting party and urging everyone to show how we're decorating for it. I found these mercury glass pumpkins at HomeGoods for my dining room table, along with a new runner to warm things up a bit.
I liked the idea of the silver and gold pumpkins instead of the typical–and more expected–orange. I'll be adding more fall decorations in weeks to come, but this is a start!
We're still in the process of finishing this room. It used to be a living room. I desperately need a hutch or something for storage and some artwork on the walls, etc., so I'm hoping to win the HomeGoods gift card Melissa is giving away! If and when I finally pull this room together, I'll give you the full before and after tour.
Are you ready for fall? Have you started nesting yet, or are you still in denial that summer's coming to an end? My family room and kitchen still look like this, but I'll be changing out the blues and yellows for orange and gold soon.
Head over to The Inspired Room to see how everyone else is nesting for fall, y'all! I'm also linking to Tablescape Thursday at Between Naps on the Porch and Blissfully Domestic, which is revealing its new look soon.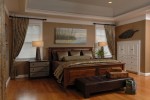 Designer Kristin Drohan, who is one of my blog's sponsors, offers "Free Advice Fridays" on her blog, Boulevard Interior Design. I always find her answers…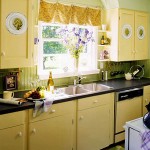 Fewer people seem to be replacing their kitchen cabinets these days. More homeowners are opting to paint their old ones instead. I've been seeing some…