Welcome to Hooked on Fridays, a blog party I host at the end of each week to celebrate the things that make us happy. Today I'm hooked on Disneyland's Haunted Mansion, which celebrate its 40th anniversary this week. It first opened its spooky doors in August of 1969 and has been giving people the chills ever since. I've only been to Disneyland's Haunted Mansion once, but it was my favorite ride in the park–probably because it looked like a really cool antebellum manor, and I couldn't wait to get inside!
My blog friend Derek told me about the anniversary and has even redesigned his blog this week to celebrate it (check it out: Derek M Design). He also gave me a link to Doom Buggies, a site devoted to The Haunted Mansion that's a lot of fun (Doom Buggies are what you ride through the mansion in). Head over there for all the information on the celebration.
I've been to Disney World more than Disneyland, so the Haunted Mansion in Florida is the one that I have the most memories of. It's more of a Gothic-style manor (the one at Tokyo Disneyland is almost identical to it):
They say there are "999 Happy Haunts" in the mansion, but there's always room for one more [insert evil laughter here].
Has anyone been to the one at Disneyland Paris? I haven't, but here's what it looks like:
Photos via the Disney Gallery.
Now it's your turn to tell us what you're hooked on today! If you have something to share with us on your blog, then add your link below. Just please be sure to:
Add the permalink to the specific blog post, not your general blog address.
Include what you're hooked on in parentheses after your blog name. Ex: The Red Cottage (antiques)
Link back to the party from your post so that your readers can come and see what everyone else is talking about today!
Visit as many of the other participants as possible and leave comments! That's what a blog party is all about!
Double-check to make sure your link works and goes to the right page so it doesn't get deleted! If you come back and see your link is gone, re-read these rules and try again.
Hooked on Fridays Participants
Powered by… Mister Linky's Magical Widgets.
Welcome to Hooked on Fridays, a blog party I host at the end of each week to celebrate the things that make us happy. I've…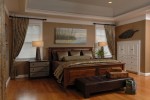 Designer Kristin Drohan, who is one of my blog's sponsors, offers "Free Advice Fridays" on her blog, Boulevard Interior Design. I always find her answers…