Nights in Rodanthe is a movie based on the bestselling novel by Nicholas Sparks that reunited Unfaithful costars Richard Gere and Diane Lane. Lane played Adrienne, a woman who has a lot to think about after her wayward husband asks if he can come back home.
She agrees to take care of her friend's inn on the beach in North Carolina's Outer Banks for a weekend, hoping to sort things out while she's away, and only has one visitor–Dr. Paul Flanner (Gere), who has troubles of his own.
There's a storm, and some soul-searching, and a romance that quickly heats up between the two and changes them both. I should warn you, though, that the movie is kind of sad! I didn't expect that. Just be sure to have a box of tissues handy.
The shutters and decks were all added by the film crew.
Adrienne unpacks in her friend Jean's bedroom. Jean (Viola Davis) is the innkeeper and has asked Adrienne to take care of things while she's away.
Adrienne shows Paul to "the blue room," where he will be staying:
This later scene gives us a better view of the bed and the blue wallpaper:
The bathroom next to the blue room:
Adrienne serves Paul dinner in the dining room:
Adrienne comes down a back staircase, ready for their night out:
After the storm is over, Adrienne surveys the damage in the attic studio:
A great aerial view of the various decks and porches surrounding the inn:
Did you see the movie? It got mixed reviews, but I enjoyed it. Except for the ending. Boo-hiss. Let's end this post on a happy note, at least, with Adrienne and Paul taking a final walk together on the beach…
*UPDATE: The real-life inn as been rescued and renovated.
The beach house was recently moved to higher ground. It was renovated to look like the one in the movie and renamed The Inn at Rodanthe. Check it out here!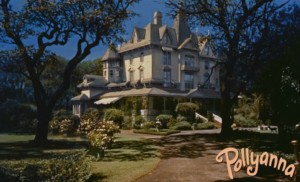 When I was in grade school, we watched the Disney movie Pollyanna on a giant screen in the gymnasium. I loved the house so much…
The movie Under the Tuscan Sun, which was based on the memoir by Frances Mayes, is the perfect "house movie." After divorcing her cheating husband,…