Welcome to Hooked on Fridays, a blog party I host at the end of each week to celebrate the things that make us happy. I've been shopping for a new kitchen faucet and clipping photos of my favorites. Here are a couple that appeal to me (from BHG and HB), but there are so many fabulous faucets to choose from that I can't seem to pick just one!
Okay, so it doesn't help that I'm an indecisive person in general. It's true. I can think the smallest decisions to death (which is why my blog is still plain black and white–choosing one design and logo for Hooked on Houses is tough for me!).
The Designer Plumbing Outlet is giving away a Moen Aberdeen Kitchen Faucet in Oil Rubbed Bronze, which got me all excited. I wonder how this would look in my kitchen? The bronze might look really nice with my white cabinets and black countertops, don't you think?
The faucet retails for $556 and sells at DPO for $361.40. Click here for giveaway details if you could use a new faucet yourself!
You also might notice the links I've got in my right sidebar for faucets. Talk about fabulous! If you're shopping for a faucet, too, then those links are a good place to start.
Now it's your turn to tell us what you're hooked on today! If you have something to share with us on your blog, then add your link below. Just please be sure to:
Add the permalink to the specific blog post, not your general blog address.
Include what you're hooked on in parentheses after your blog name. Ex: The Red Cottage (antiques)
Link back to the party from your post so that your readers can come and see what everyone else is talking about today!
Visit as many of the other participants as possible and leave comments! That's what a blog party is all about!
Double-check to make sure your link works and goes to the right page so it doesn't get deleted! If you come back and see your link is gone, re-read these rules and try again.
Hooked on Fridays Participants
Powered by… Mister Linky's Magical Widgets.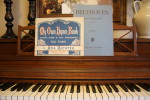 Welcome to Hooked on Fridays, a blog party I host at the end of each week to celebrate the things that make us happy. Today…
Welcome to Hooked on Fridays, a blog party I host at the end of each week to celebrate the things that make us happy. Today…