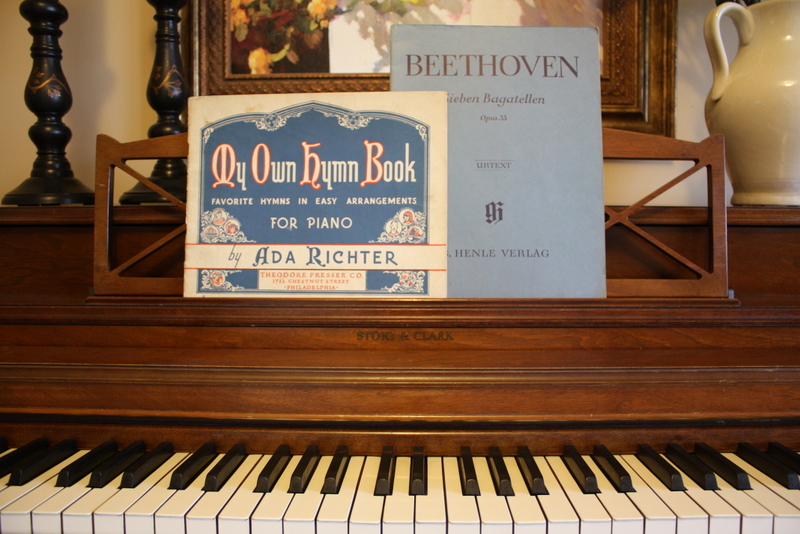 Welcome to Hooked on Fridays, a blog party I host at the end of each week to celebrate the things that make us happy. Today I was inspired by the "Heirloom Party" happening at the blog Emma Calls Me Mama to post my own favorite family heirloom. I don't have many, so it was easy to choose.
See this old Story & Clark piano? It was my grandmother's. My mom and her sister learned to play piano on it. Years later, so did I.
After I got married and had a home of my own, my mom asked me if I wanted it. Yes! I couldn't bear to think of it leaving the family. When it arrived at my house, I opened the bench and found stacks of old sheet music–complete with little gold stars and scrawled notes from piano teachers ("Needs more work!").
My husband is a musician, and he plays this old Story & Clark much more than I do. Dave was actually in a rock band when I met him, with spiky hair and an earring, but he's mellowed out over the years. Now when he rocks out, it's with the "family band" as he calls his sessions with the kids.
Do you have any family heirlooms that make you happy? Visit Marie's Heirloom Party to see what everyone else has to show us today.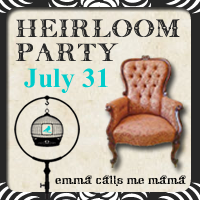 P.S. Be sure to check out Melissa's Beautiful Life party, too!
Now it's your turn to tell us what you're hooked on today! If you have something to share with us on your blog, then add your link below. Just please be sure to:
Add the permalink to the specific blog post, not your general blog address.
Include what you're hooked on in parentheses after your blog name. Ex: The Red Cottage (antiques)
Link back to the party from your post so that your readers can come and see what everyone else is talking about today!
Visit as many of the other participants as possible and leave comments! That's what a blog party is all about!
Double-check to make sure your link works and goes to the right page so it doesn't get deleted! If you come back and see your link is gone, re-read these rules and try again.
Welcome to Hooked on Fridays, a blog party I host at the end of each week to celebrate the things that make us happy. One…
Welcome to Hooked on Fridays, a blog party I host at the end of each week to celebrate the things that make us happy. I've…