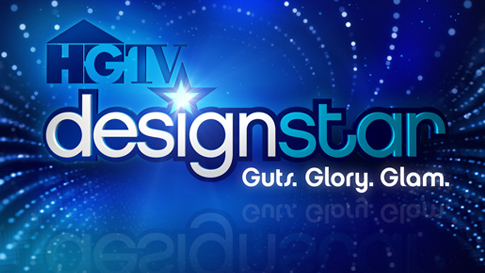 Last summer I had a lot of fun recapping HGTV's "Design Star" each week. It was so cheesy that there was no shortage of things to poke fun at talk about. Remember the "ghost" that haunted the house they were decorating and played pranks on them, like taking their paint cans out onto the lawn and knocking pictures off the walls? Or when the host with the most Clive Pearse told the contestants they'd be building their own place to stay by the river, but it turned out to be an elaborate joke? Yeah, stuff like that. Instead of "Guts. Glory. Glam," I thought the tagline for the season should have been "Guts. Glory. Goofiness."
This season so far seems to have been streamlined to rid the show of all of the insanity and drama. It's gone Professional. Clive looks much more serious in his suits. No more corny jokes. Even his air horn is M.I.A.
Two of the judges have been replaced and now we have three heavy hitters at the helm: Candice Olson, Vern Yip, and Genevieve Gorder. That's a big improvement right there. I'm a fan of all three of those designers (but I'll miss Cynthia Rowley's crazy outfits from last season).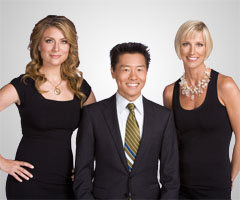 Too bad the contestants don't seem to be delivering better designs than last year. Makes me wish we could at least have the fun back.
This week's episode found the contestants remodeling entire kitchens in 3 days, and doing the labor themselves. Listen. I once worked for a successful designer who was extremely talented, but there's no way she could have gutted a kitchen and hung new cabinets herself in three days. How many designers could? So maybe it's no surprise that the kitchens turned out the way they did, with cabinets that weren't square, granite countertops that didn't quite meet at the seams, and an oven hood that fell off the wall with no help from a ghost at all.
Clive said, "The kitchen is the heart of the home, but in this case it flatlined." That pretty much sums it up.

Kitchen #1 Before: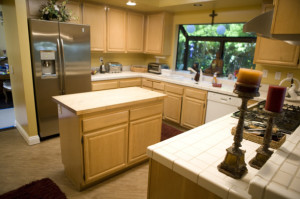 Kitchen #1 After It Has Traveled to Morroco and Italy and Back: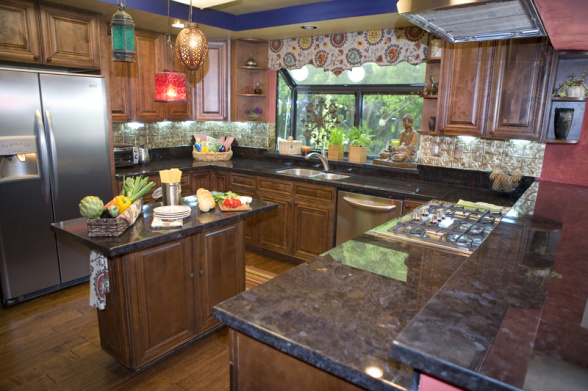 The colors were chosen by "The Color Expert" in the group, Jen Guerin. At first I thought that blue band around the ceiling was painter's tape they forgot to take off. I was almost more shocked to realize that, no, this was intentional. What that color of blue has to do with anything else in the kitchen, I have no idea.
Vern Yip said, "It looks like a rainbow threw up all over it." And not in a good way.
It gets worse. In this photo you can see the paint treatment they did on the other side of the breakfast bar. I missed that during the actual episode. They just had way, way, way too much going on in here for me.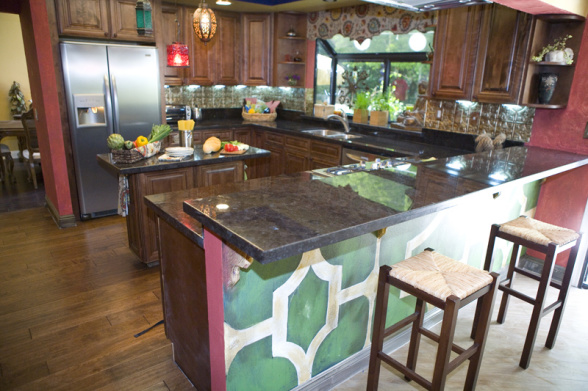 The other team's kitchen had the opposite problem: not enough going on.
Kitchen #2 Before: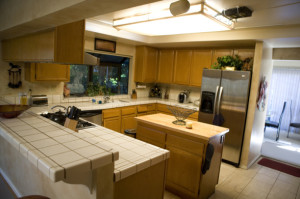 Kitchen #2 After: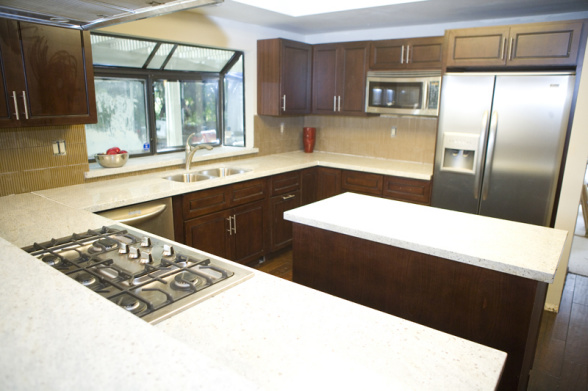 *Yawn.*
I don't understand how the accessories were bought but never made it into the kitchen. It was never really explained, but the team made it clear that it was all Tashica's fault. (My husband Dave said, "I can hear the bus rumbling down the road." Sure enough, they threw Tashica right under it.)
At least the homeowners got new cabinets, appliances, and granite countertops. I think I'd rather get this kitchen because I could add my own color and accessories. In the first kitchen, I'd have to get rid of the "rainbow puke" first.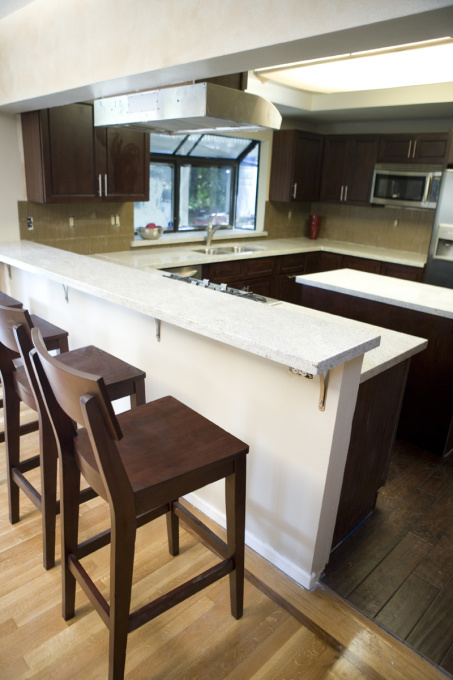 But wait. I just saw this photo that shows the floors. The kitchen hardwoods are totally different than the ones they butt up against in the dining area. I wish they had taken that into consideration. They could have at least chosen a hardwood the color of that darker band, and planks that weren't so completely different in width and texture.
Which kitchen would you choose? I think I'll have to go with "None of the above."
Check out my post about Candice Olson if you want to read more about her design work. Relive last season's ghost episode: Stand by Your Haunted Mansion, or remember the heights of goofiness with Clive Just Kidding, You Guys!

(Photos via HGTV.com. To read more about the contestants and see more photos from the episodes, visit the Design Star page.)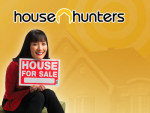 Last year I wrote a post about HGTV's top-rated show "House Hunters" and its host Suzanne Whang, an actress who has had small roles in…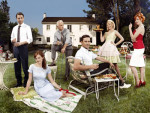 Are you mad about Mad Men? I am! The series returns tonight on AMC and I can't wait. This is a show I could watch…