Got a major house project looming and feeling overwhelmed? Need to remodel a room and need some inspiration to get going? Then let me introduce you to Jim Madsen, an award-winning professional building designer whose gallery of remodeled rooms includes this beautiful contemporary kitchen. I'm excited to have him as one of my blog's newest sponsors because he has written a book that I really enjoyed and that I think you'll find helpful, too.
It's called 101 Great Building Design Ideas, and it's filled with just that–one great idea after another in a very easy to read format that is filled with photos of his work. He also has a sense of humor and a conversational writing style, so it's fun to read.
Some of my favorite sections of the book include:
How to include a hidden door in your home, such as a bookcase that swings out to reveal another room or private nook (always wanted one of those!)
Recessing sections of walls in a room to create a family photo gallery (love this idea!)
Creating a built-in Coffee Center like this one (below):
Why you should think twice before putting a professional-grade cooktop on an island unless you're willing to have an updraft hood hanging in the center of the room.
The type of wood that you shouldn't use for kitchen cabinets, even though it might look beautiful.
Why we should bring back the concept of "keeping rooms" in our homes–no TVs allowed.
Visit Jim's Design Classics website to learn more. You can buy his book as either a hard copy or ebook. He also has an impressive gallery of remodels he has done like the one shown here that's fun to look through.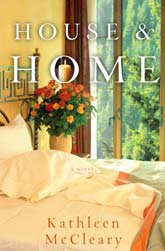 Today I have the privilege of kicking off the TLC Book Tour for Kathleen McCleary's novel House & Home. She'll be making virtual tour stops…
Author and Professional Building Designer Jim Madsen has a project gallery on his website filled with photos of his remodeling work. This morning I was…