Yesterday we took a look at Mary Richards' third-story apartment from "The Mary Tyler Moore Show." Today I thought I'd show you what the Queen Anne Victorian really looks like in Minneapolis, Minnesota.
The Mary Tyler Moore Show Victorian in Minneapolis
Here's the information from the 2007 real estate listing information:
This 1892 Queen Anne Victorian was the setting for the Mary Tyler Moore show. Recently and completely renovated for today's family. The main floor parlor and living room have incredible woodwork. A new kitchen and family room, suitable for entertaining, and a totally new master bath, was added to the home.
There is a 3rd-floor guest suite with three bedrooms, 2 bathrooms, and a separate living area. This home offers a three car garage, and over 9,000 square feet.
Here's how it looked on the show in 1970:
In this exterior shot, Mary walks out of the house toward the street and you can see the chain link fence that used to surround the old house. Thankfully, it's gone now!
The renovation included a nearly 3,000 square-foot addition that added two bedrooms, three baths, and expanded the kitchen. Here are the photos featured in the real estate listing:
The sweeping mahogany staircase in the entry:
The house now has exercise, sauna, crafts, office and billiards rooms and servants or nanny's quarters. The third-floor space–which the owners referred to as the "Mary Tyler Moore Suite"–went from being unfinished attic space to a home office and media room.
I found these two photos of the dining room from an earlier listing, before the renovation several years ago, but there weren't any photos of it in the more recent listing. I'd love to see what changes, if any, they made to it:
The house had been divided into apartments like they were on the TV show, but the extensive renovation returned it to a single-family dwelling.
The kitchen, which is now four times its original size:
The house has 8 bedrooms, 5 full baths, and 4 half baths. This is the master bedroom:
I found this photo taken of it a few years before its renovation, when it was very brown. It sold for around $1 million:
*UPDATE: It's on the market again. Click here to see how it looks today!*
Mary Richards' Apartment on The Mary Tyler Moore Show
I grew up watching "Mary Tyler Moore Show" reruns after school and wishing I could have an apartment like hers. And of course I'd have…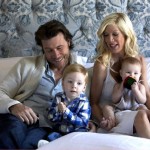 Maybe I shouldn't admit this, but I actually enjoy the reality show that Tori Spelling does with her husband Dean and cutie-pie kids Stella and…