Hope you're having a nice, lazy Sunday. Those are the best kind! Here are a few links to check out this weekend.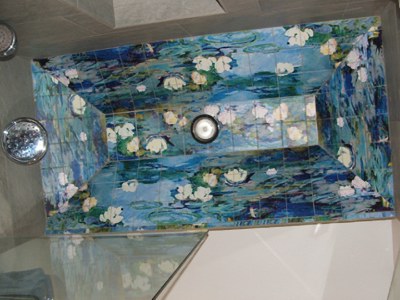 Alicia Tapp Tile Designs has a page of customer testimonials featuring photos they've sent in of her tiles and how they used them. This client wanted a little Monet in her shower — and thanks to Alicia, she now has "Water Lilies" on the ceiling. You can see more here. I'm always amazed by their creativity!
I'll see you back here tomorrow for another fun Movie Monday post. This movie is from 1992 and stars Steve Martin and Goldie Hawn. The little yellow house in it has been a favorite of mine for a long time, so I'm excited to feature it this week. Can you guess which movie it is?
(Visited 1 times, 1 visits today)