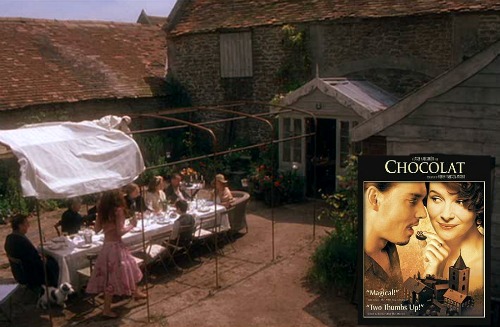 The movie Chocolat has something for everyone. Even if charming French villages aren't your thing, and the sight of Juliette Binoche as chocolatier Vianne whipping up her heavenly concoctions doesn't thrill you, there's always Johnny Depp to look at!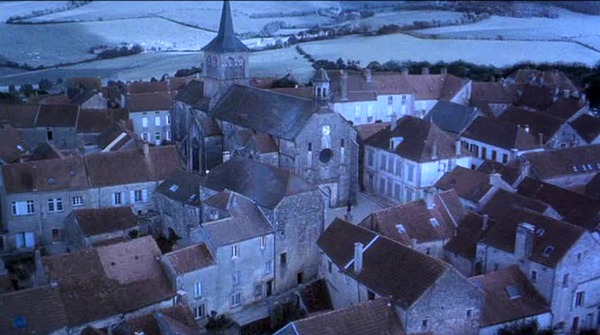 It's 1959 in a small village in the South of France when Vianne and her daughter Anouk arrive in their bright red capes and start stirring things up.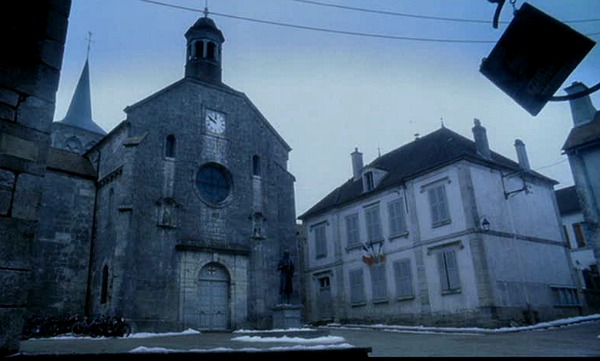 In the DVD Special Features there is an interview with the production designer who explains that they filmed the exterior shots in Flavigny, a stone-walled French village from the 10th city. The cemetery that overlooks the town was created for the film, and because there is no river in the area, they shot the water scenes separately, in England. The statue of 'Comte Reynaud' was made (out of plastic!) for the film.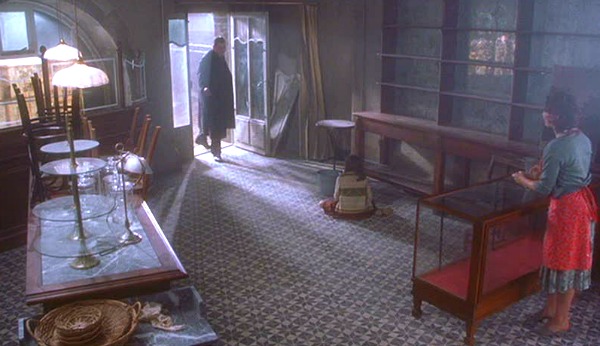 Vianne buys the old patisserie in the town square for her new chocolate shop. The fact that she does so during Lent, when most villagers have given up sweets, doesn't go over well. The Comte de Reynaud (Alfred Molina), especially, takes umbrage, and comes to the shop to confront Vianne: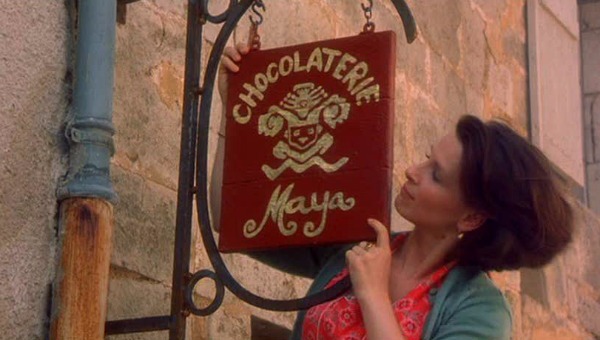 Undeterred by the town's chilly reception, Vianne sets to work on the shop, painting everything turquoise and hanging a new sign out front.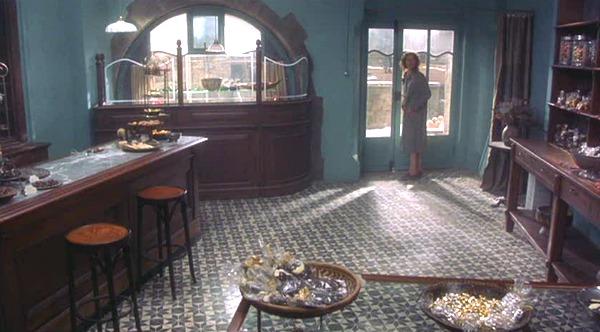 This hot chocolate she makes looks like hot fudge. You'd have to eat it with a spoon!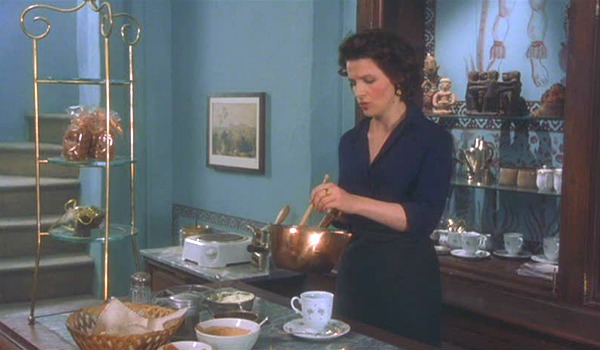 Binoche was trained at a real chocolate shop in Paris so she would really know how to make the candy in the movie. Seems like a good skill to have in life! 🙂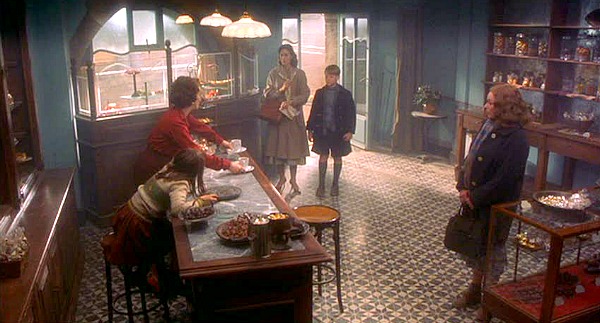 Working in the kitchen with her new friend and coworker (Lena Olin):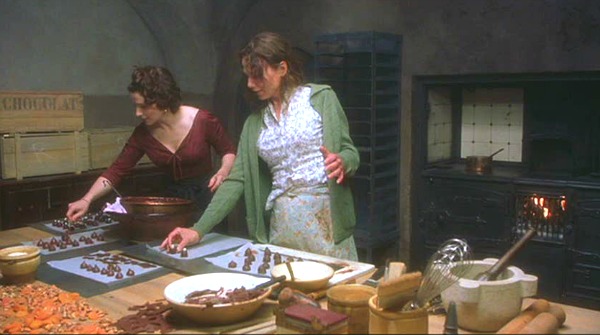 Totally gratuitous Johnny Depp photo, as the Irish "River Rat" Roux: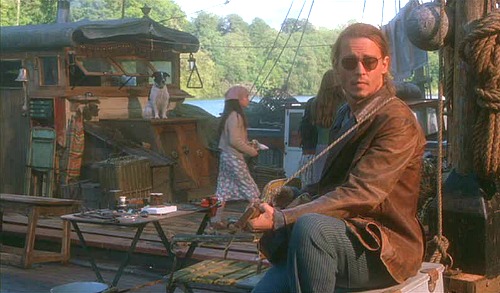 When Roux comes to town, Vianne is the only shopkeeper who will serve him. He shows his appreciation for her friendship by fixing her front door: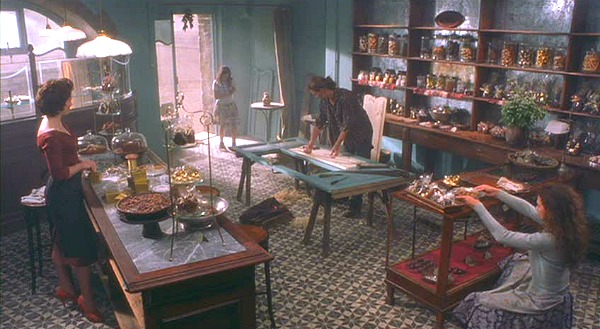 Vianne throws a party in the backyard for her landlady Armande's birthday (Judi Dench):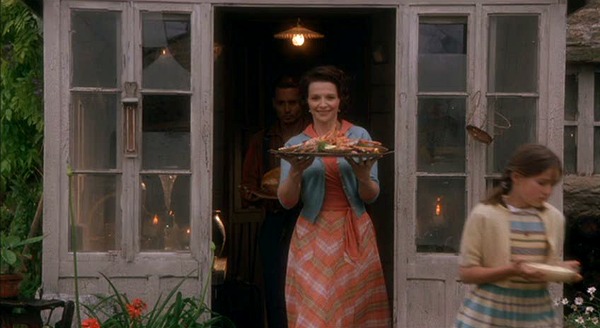 I believe these scenes were shot at a small rural farm in Somerset, England. I read that Judi Dench was unable to travel to France at the time because her husband was very ill.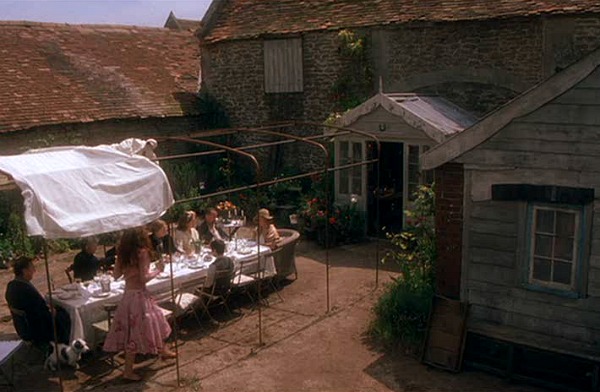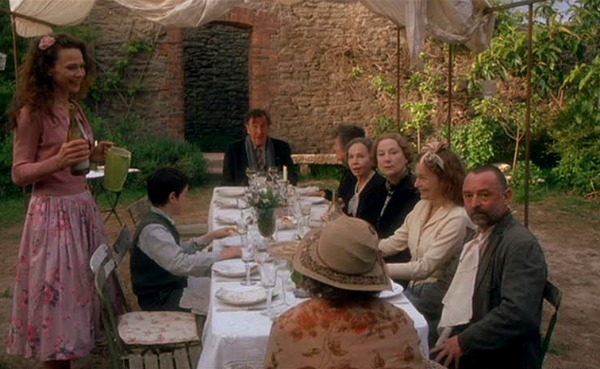 Alfred Molina plays the local "baddie"–the Comte de Reynaud, who rules the village with an iron fist.
The interior sets for his house and mayoral office, created on a soundstage in England, were beautiful, too: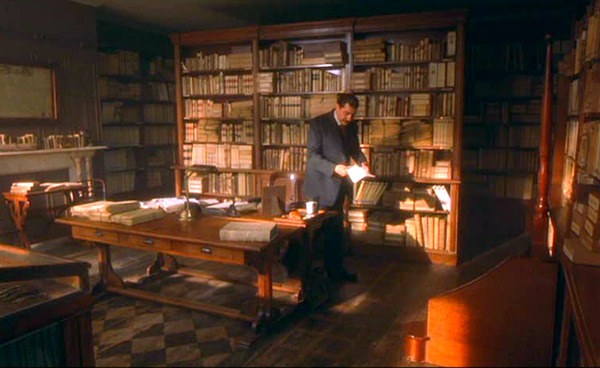 Love the fireplace in his kitchen: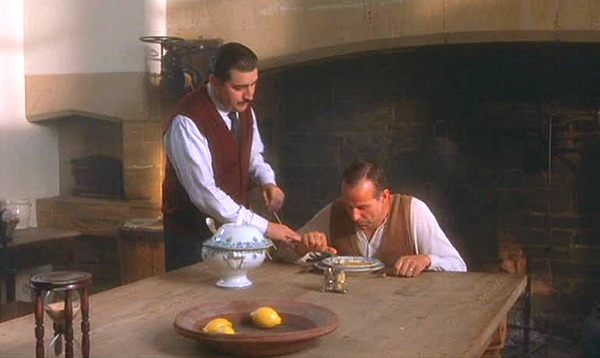 The exteriors for the village, shop, church, and mayor's home were all filmed in Flavigny-sur-Ozerain, Côte-d'Or, France, according to IMDb.com. The river scenes, however, were filmed in England at Fonthill Lake in Wiltshire.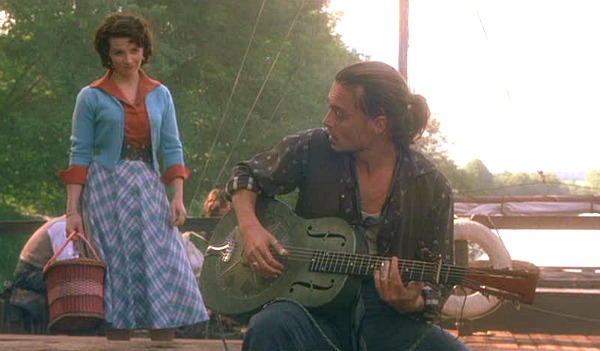 P.S. Visit my TV/Movie Houses page to see more, including…
The Carriage House from Eat Pray Love
(Visited 35 times, 8 visits today)