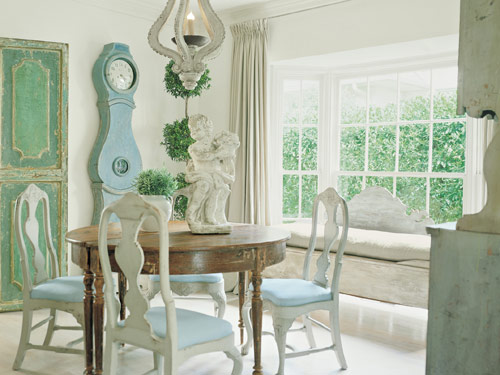 Every Friday I like to share things I love. Today I'm hooked on these fresh and light rooms from interior designer Shannon Bowers' home in Dallas.
According to Veranda magazine, which featured her work:
Bowers transformed her once-dark, two-story Georgian house into a haven of pale European furnishings bathed in sunlight. 'I'm a purist,' she says. 'For me, colors found in nature—like robin's egg blue, light sand and the lavender of hydrangeas—are soothing. Because this house feels so open, the indoors and outdoors are married.'
Inspired by the soft hues and understated elegance of painted Swedish furniture, as well as the light shades of flooring in many European homes, Bowers found a linen with a "petit blue" undertone that dictated the colors of the interiors. "Often I'll pick one fabric, and it will determine the palette for an entire house."
Complementing the Swedish pieces are numerous French antiques that exude a similar aesthetic. "Most of the French furniture is from the Directoire period, so the lines are very clean, and those pieces work well with our Swedish furnishings."
You can read the entire article at Veranda.

Photos by Peter Vitale.