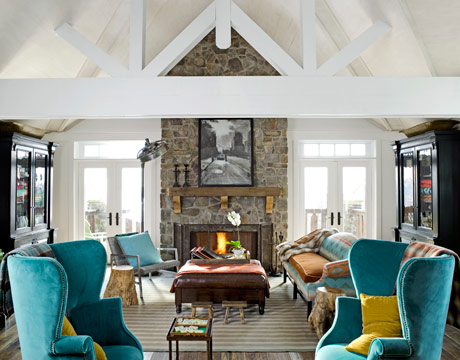 I have a thing for stone fireplaces. I grew up in a charming old house that had one, which might explain why I always stop to look at rooms with them. Case in point: the family room in Country Living's 2009 House of the Year. I also like the beamed ceilings and those turquoise chairs. What I'm not so sure about? The kind of odd-looking exterior of the home: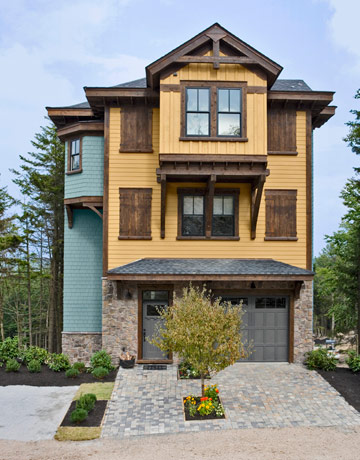 At first I thought this was the back of the house, but it's not. And what's with the fake shuttered windows? Why wouldn't they put real windows there? (If I'm missing something and you have the answer, please fill me in.)
This year's house is on a mountain in West Virginia. According to the magazine:
The other odd thing, in my opinion, is the kitchen: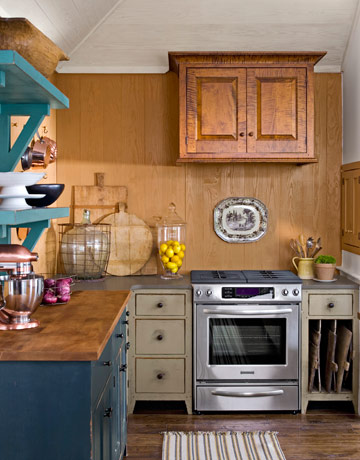 I'm just not sure about the Southern pine plank paneling. I'd personally rather have tile. Oh, and see that lone enclosed cabinet hanging on the wall? It's not a cabinet at all. It's hiding the ventilation fan. I think there's just a little too much wood, and too many different kinds of it, for me here. And does anyone else think that some sort of retro stove would've fit better in this room than the stainless one?
Sorry to sound so picky. There are things I like about it, like this sitting room off the master bedroom–even though I mistook it for a breakfast nook at first glance: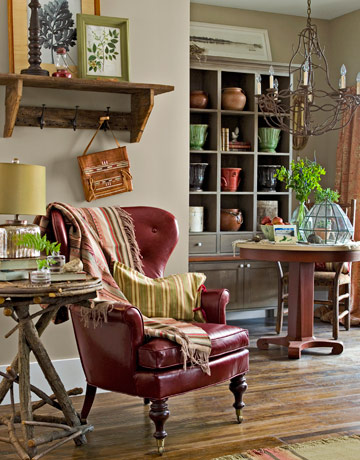 Go to the Country Living website to take the rest of the tour. What do you think about the House of the Year?
P.S. Did you watch HGTV give Cheryl Smith of Lakeland, Florida, the keys to the Dream Home 2009? She and her husband were so cute, it was easy to be happy for them. I thought it was interesting how HGTV nixed the live audience this year, replaced Lauren Lake as the announcer, and filmed the winner's reaction ahead of time (it appeared to be edited). A year later, the post I wrote about that awkward moment with 2008 winner Stephanie Dee continues to be one of the most-viewed on my blog. People can't stop talking about it.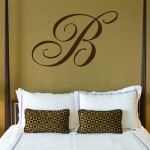 Welcome to this week's Hooked on Fridays blog carnival! Today I'm hooked on these Dali Wall Decals. I first discovered them over at Nonnie Bear…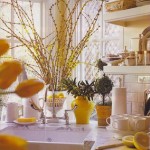 1. Bring a little yellow into your house! 2. Wash the winter off your windows and let the sun shine in. 3. Organize your laundry…