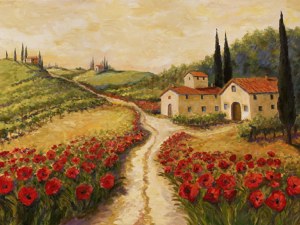 We don't have any tile backsplash in our kitchen, and that has always bothered me. One of these days we'll get around to adding some. In the meantime, I cut out photos of tile I like and continue to amass a stack of "inspiration rooms." I thought these tiles from Alicia Tapp Designs were interesting. There's an "art gallery" you can browse through on the site. So you can choose one like this "Red Poppy Road" by Joanne Margosian, and then have it put onto tiles to create an interesting mural on your wall. Here's a photo a customer sent in after using "Red Poppy Road" in her kitchen (sorry it's so small!):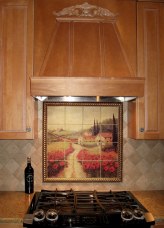 One of my favorite mural examples was "Valley View." She enlarged a fruit crate label for her customer (this mural was featured in Victoria magazine):
The possibilities are endless. You can send in a sample of your wallpaper, fabric, or even just photos of your room and they'll personalize and customize individual tiles or a mural to coordinate with it.
It's fun to look through their galleries and see all the creative things they're doing with tile, and I spent a long time looking through all of the customer photos that people sent in. There are tile murals over fireplaces, along exterior entry ways, and even an amazing tiled bathroom ceiling with a mural of "Waterlilies" that you have to see to believe.
Alicia Tapp Designs is just one of my amazing blog sponsors. See them all in the right-hand sidebar? I love my sponsors! I hope you'll check out their sites when you have a chance because they all have great things to offer house-lovers like us. Not only that, but they are all really nice people behind the companies who I've enjoyed getting to know.
(If you're interested in advertising on my blog, click here or contact me. I also have special rates for bloggers who just want a little more exposure but aren't selling anything.)
Just a reminder that tomorrow is Hooked on Fridays. If you're a blogger and want to participate, simply write a post about something you're "hooked on" this week. I'll have Mister Linky up and ready for you to start linking up by 10:00 tonight (ET). See you then!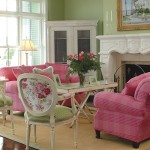 Last week I posted 10 Ways to be Happy at Home and asked you what you'd add to my list. Here are 20 of the…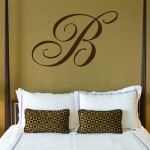 Welcome to this week's Hooked on Fridays blog carnival! Today I'm hooked on these Dali Wall Decals. I first discovered them over at Nonnie Bear…