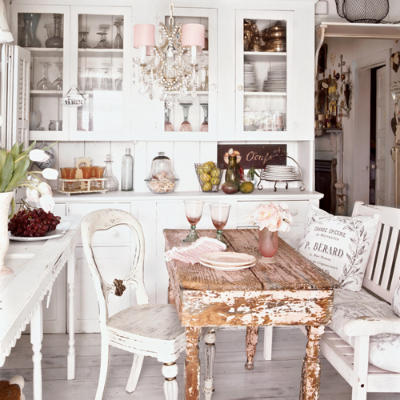 Valentine's Day is one of the highlights of winter for me. A bright spot in a string of long, cold, dark days that we have here in the Midwest during this time of the year. It gives us a chance to have a bit of color around. I fantasize about redecorating my house with fresh pinks like the ones in this Southern Living kitchen, or bright reds like in the bedroom from BHG below.
My husband and I started dating right before Valentine's Day–our first date was on February 7–so this time of year also reminds me of that "new-in-love" feeling. Do you know what he gave me on our first Valentine's Day together? A black rose. That's right. (He'll love that I'm telling you this!) It was left outside on a windowsill overnight so it would stay "fresh."
It froze. By the time Dave gave it to me, the rose was purplish-black and falling apart. You know you like a boy a lot when he gives you a dead flower and you keep dating him anyway! We joke that he was just setting the bar low so that all of his gifts in years to come would look good in comparison.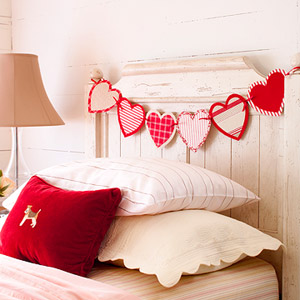 Each year I make him take me to a chick-flick or romantic comedy for Valentine's Day, and he's a good sport about it. Today I'm dragging him to see the movie version of one of my favorite books:
I love the Shopaholic series by Sophie Kinsella. If you haven't read them, I'm telling you, they are laugh-out-loud funny. Critics are saying the film version isn't as good, but I'm a big enough fan that I'll go and pay good money to see it anyway. I even went to a book signing when Sophie Kinsella came to town and took about 50 photos of her, like a stalker. (She's just as sweet and fun as you'd imagine when reading her books, by the way!)
What are you doing for Valentine's Day? Whatever it is, I hope it's a good one!
Now it's your turn to tell us what you're hooked on today! If you have something to share with us on your blog, add your link below. Just please be sure to:
Add the permalink to the specific blog post, not your general blog address.
Link back to the party from your post so that your readers can come and see what everyone else is talking about today!
P.S. If you're a Stumbler, please Stumble this! If you're on Twitter, please Tweet it! I want everyone to get as much traffic as possible today.
Hooked on Fridays Participants
Powered by… Mister Linky's Magical Widgets.

NOTE: IS YOUR LINK MISSING? That means you linked to your general blog address and not a specific post, and I couldn't figure out which post was for Hooked on Fridays. Please remember to use your post's permalink and to link back to the party so there's no confusion. Everyone makes mistakes–-just try again next week!
*Melissa at The Inspired Room is having a "Beautiful Life" blog party today. She also has a great recap from BlissDom posted that you should check out! I also just discovered Finer Things Friday, another fun carnival going on!*
(Visited 1 times, 1 visits today)