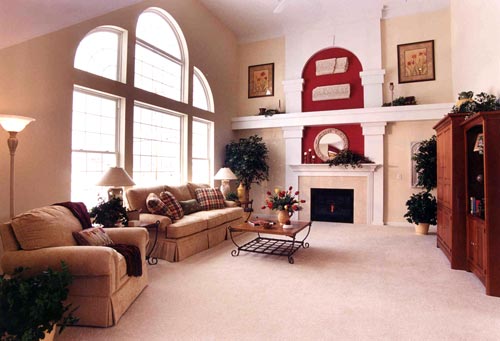 What do you think of the two-story family rooms that have sprung up all over suburbia? It's a trend that seems to have been spurred on by the McMansion movement. Everyone wants their house to look grand, and what better way than to have soaring ceilings and cathedral-sized windows? I'll never forget the first time I walked into a house that had a two-story family room. I gasped. Wow! It was so impressive!
"You know what else it is?" the homeowner asked. "It's cold in the winter because all the heat goes up to the ceiling. It's noisy when we try to watch TV at night and the kids are upstairs sleeping. And it's a huge waste of space. I'd much rather have an extra room upstairs."
She went on and on. Once she got started talking about it, she couldn't seem to stop. "Do you know how hard it is to decorate a wall that's two-stories tall? And don't even get me started on that window. How do you find window treatments to cover that?!"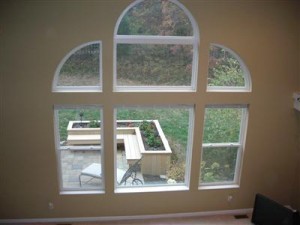 It was an eye-opening conversation. And it stuck with me a few years later when we were house-hunting and saw one two-story family room after another, including one in a model home. We liked everything about the model except the tiny laundry room stuck behind the kitchen (already told you about that in my rant about laundry rooms) and the two-story family room.
We told the builder we did not want a two-story family room open to the upstairs hallway. He said, "No problem. We'll just create an extra bedroom or playroom in that space instead."
Sounded good to us! It cost us an extra $5,000, and we had to bring the family room exterior wall in 4 ft for structural support purposes, but we use the playroom enough to make the sacrifice downstairs worthwhile. (You can see what my family room looks like here.)
To give you a visual, this is how our upstairs hallway would have looked if we had stuck with the original plans: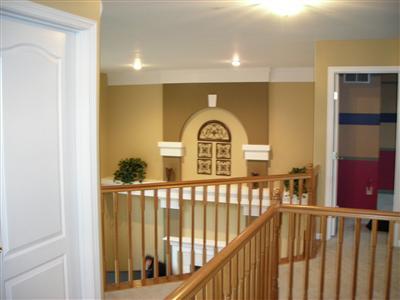 And this is the playroom we got instead: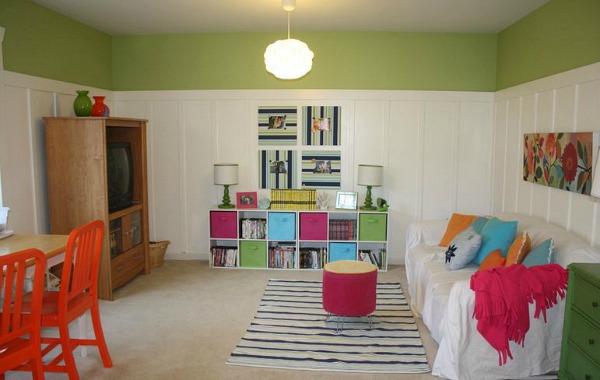 What do you think of two-story family rooms? Are you tired of them, too?
* UPDATE: See what everyone else is saying about 2-story family rooms*
The Two-Story Family Room Trend: Out or In for 2010?
(Visited 32 times, 1 visits today)