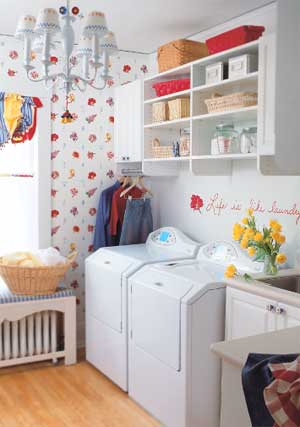 One thing I'll never understand is why home builders continue to stick laundry rooms behind kitchens. Connected to the garage. On the first floor. This usually puts the washer and dryer as far away from your bedroom as possible, right? It makes no sense to me. Who wants to drag their dirty clothes downstairs and through the kitchen to the back of the house? Not me.
When we were house hunting a few years ago, we saw one laundry room off the garage after another. Home builders apparently think we want a combination mudroom, coat closet, and laundry room. Well, that doesn't work very well, does it? You go to do laundry and you have to kick the piles of shoes out of the way first. Or you come in from the garage after a long day of work only to be greeted by baskets of laundry in your way.
All I can figure is that most of the builders who think this setup works are men who don't do much laundry (no offense to the men who do their share of it, like my husband!). Well, if any home builders are reading this, I'm begging you–please start putting laundry rooms closer to our bedrooms, where all those dirty clothes are piling up! Don't make us lug them across the house just to throw a load in. (The only thing worse is having the laundry in the basement, which was the setup in my previous house.)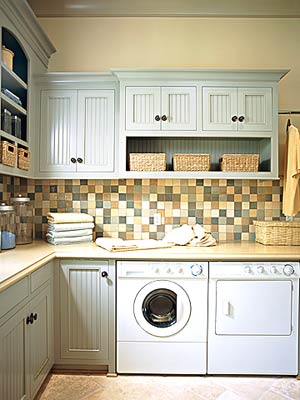 When we were building our current place, the home builder offered a variety of floor plans–all with laundry rooms off the garage, behind the kitchen. We weren't crazy about any of the plans, but this was the suburb we wanted to build in, near the school we wanted our kids to go to, so we had to make something work.
Our solution was to turn the laundry room into a mudroom and add a laundry closet upstairs in our master bath to put the washer and dryer in. This meant we couldn't fit a big, fancy "spa tub" in the bathroom, but I decided that having the laundry upstairs was worth the trade.
And I never regretted it. This arrangement has saved me countless hours over the years we've been here! I would love to have an entire laundry room like the ones shown here (from BHG), but this is the next-best thing.
Because I don't want piles of laundry in my master bathroom sitting around all the time, I came up with a system for keeping everything organized. And it's simple!
There are three laundry baskets that sit in our walk-in closet. I labeled them WHITES, DIRTY WHITES, and DARKS/COLORS.
Everyone in the family is responsible for putting their dirty clothes in the appropriate baskets every morning and every night. When my daughter was too young to read, I let her put stickers on the baskets so she would know where things went. She's been sorting her own clothes this way since she was 3.
As soon as one of the baskets fills up, I toss that load in the washer.
When the clothes come out, I immediately put the kids' clean clothes in their rooms. They are responsible for putting their own clothes away before bedtime. I'm a big believer in the team-effort approach to family life. Mom is not the maid.
When you have kids, laundry can take over your life if you aren't careful. This works for me. What solutions have you come up with? I'd love to hear your ideas!
(Visited 83 times, 1 visits today)