One of my favorite novels is Jane Eyre, and I've probably seen every TV and movie version they've made over the years. I especially love the Toby Stephens-Ruth Wilson miniseries produced for Masterpiece Theatre in 2006. I watch it at least once a year (cold, rainy days are best), and I never get tired of it.

Haddon Hall, the Filming Location for "Jane Eyre"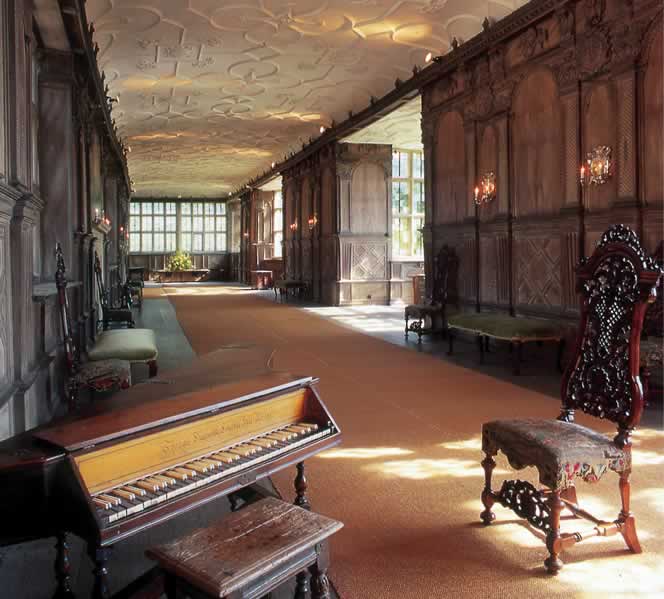 This is the "Long Gallery" in Haddon Hall, a fortified medieval manor house in Derbyshire, England. The old manor dates from the 12th Century and was used as the setting for Thornfield in the film.
If it looks familiar, it's because it's been used in lots of other productions, including the 2005 version of Pride & Prejudice with Keira Knightley and Matthew Macfadyen, as well as for the more recent movie version of Jane Eyre with Michael Fassbender and Mia Wasikowska.
Ruth Wilson was cast as Jane for this version when she was barely out of drama school. Now she stars in the Showtime series The Affair.
The red scarf flapping in the wind outside this upper-story window is Jane's first clue about Thornfield's secret inhabitant:
They made Haddon Hall look gloomy and grim onscreen:
But here's how it looks in real life with the gardens in bloom:
Production designer Will Hughes-Jones says, "We were walking around with custodians of the building and said we needed a secret door for the cast to go through. One of the custodians said, 'Like this?' and held back a tapestry to reveal a real-life secret door."
He adds, "You can get lost in Haddon Hall for hours. It can feel dark and frightening, but then again, when the sun is shining on it, it's a beautiful place."
I love the big wooden door behind Rochester in this shot:
Jane's Bedroom:
In his book 1000 Best Houses, Simon Jenkins described Haddon Hall as "the most perfect house to survive from the middle ages."
Jane on her wedding day:
According to Haddon Hall's website:
Haddon Hall is probably the finest example of a fortified medieval manor house in existence. Present-day Haddon Hall dates from the 12th Century to the early 17th Century, whereupon it lay dormant for over two hundred years from 1700 until the 1920s, when the 9th Duke and Duchess of Rutland restored the house and gardens, and once again made it habitable.
Rochester's study, which looks as dark and brooding as he is:
Producer Diederick Santer wrote about filming at Haddon Hall:
Haddon is a magical place. The rooms are rugged and beautiful, and are made all the more so by the brilliant decoration and propping of designer Grenville Horner and his team. Our base is close by, and it's an extremely comfortable location in which to work.
Except that it is FREEZING.
I wear more layers than ever before — three on my LEGS! And a coat that's more like a duvet. And I'm still FROZEN! Heaters are no use. We line up about a dozen in the long gallery (which serves as the drawing room of Thornfield Hall) and our breath is still condensing.
Brrr. Gives me new appreciation for how well Ruth Wilson and Toby Stephens managed to heat up the screen!
Jane in the servants' quarters:
Adele's school room: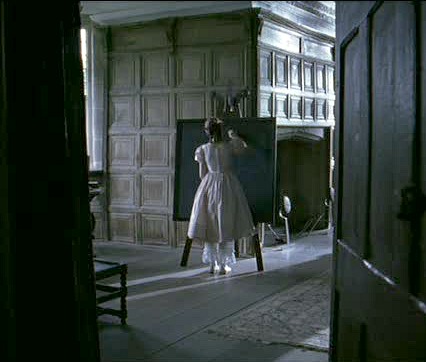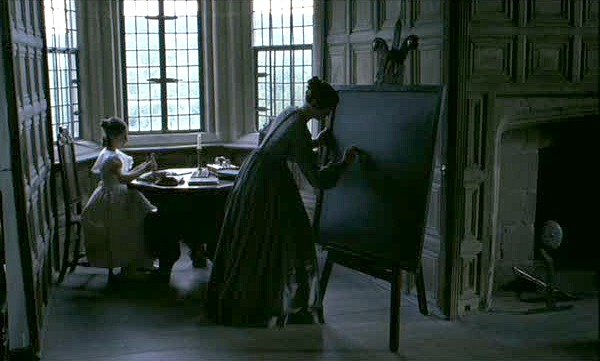 It makes me sad every time Jane returns to find Thornfield has burned down!
Any other Jane Eyre fans out there? Do you have a favorite TV or movie version of the novel? Visit the Haddon Hall website for more photos and information.

P.S. Visit Houses Onscreen to see more, including…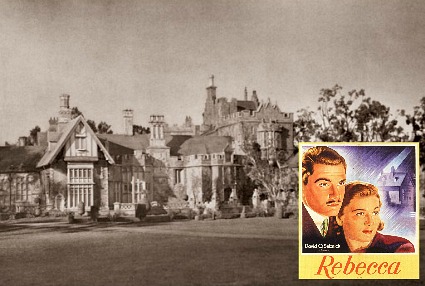 (Visited 63 times, 7 visits today)