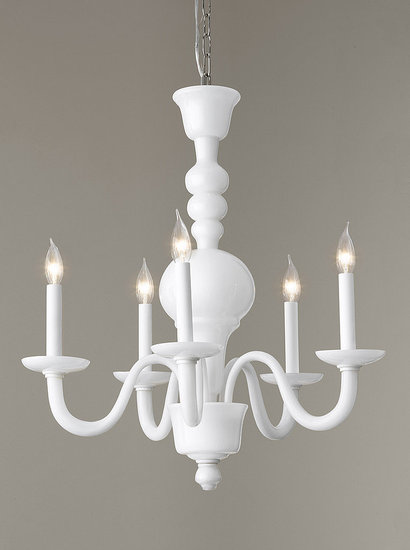 Welcome to my first Hooked on Fridays blog party of 2009! One of my goals for the new year is to finish some of the hundreds of projects that I started around the house in 2008. I'm a good starter–not such a good finisher. I get bored or frustrated or just distracted by something else. So one of my resolutions is to try to FOCUS long enough to get at least a few rooms entirely done. Wouldn't that be nice?
One of our ongoing projects has been a top-to-bottom remodel of our dining room. We replaced the carpet (yes, the builder put carpet in the dining room!) with hardwood floors, and Dave added a chair rail and crown molding. It's coming along. Now, as I attempt to finish the room, I'm searching for a chandelier. When I came across this one from Martha Stewart's Veneto Collection, I fell in love.
From the description on the Macy's website:
Named for the celebrated Italian region that produces it, this set of chandeliers pays homage to the modern grandeur of Venetian glass. On each chandelier, sinuously curved arms of white Milk Glass or green Jadeite Glass surround a shapely body, and the chandelier is suspended from a matching glass canopy by a Polished Nickel chain.
Unfortunately, it also has a steep price tag: $1,048.50 (love how they tagged that 50 cents at the end). And this is the smallest size–it also comes in 8-light and 9-light versions, which are, as you might imagine, even more expensive. Here's a photo of a larger one shown in a living room: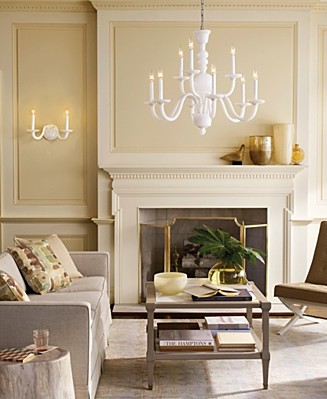 I'm also digging the jadeite version: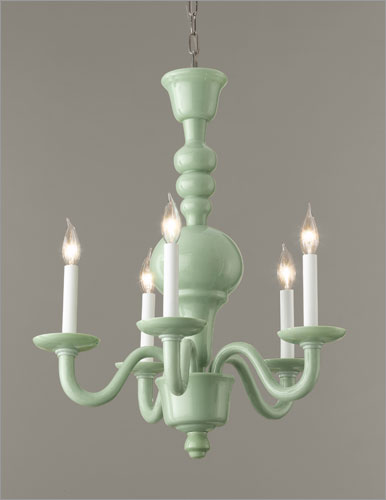 I found the five-armed chandelier on sale for $699 at this website, but that's still more than I can justify spending after all we've put into the room already. It's tempting but–back to those goals for 2009–we're trying to be financially smart and cautious this year. I won't be splurging on things like this when our washer and dryer are about to bite the dust, and our ancient fridge is making those weird noises.
*Sigh* In other words, as I focus on finishing all of my house projects, I need to find things that look like a million bucks, but cost a buck fifty. Good thing I've got all of my creative blog friends out there who will no doubt give me plenty of inspiration again this year!
What are you hooked on today?
If you have something to share with us on your blog, add your link below. Just please be sure to 1) add the permalink to the specific blog post, not your general blog address, and 2) link back to the party from your post so that your readers can come and see what everyone else is talking about today! Thanks!
(Melissa at The Inspired Room is having a blog party today, too. Everyone is sharing goals and ways they're working toward having balanced lives in the new year. Check it out!)
P.S. Normally, links on Mister Linky lists don't "count." But I just upgraded my Mister Linky membership so that from now on, when you link to a party on my site, it will show up on Technorati, Google, and other blog-ranking sites. Just my way of saying thanks for playing along!
Powered by… Mister Linky's Magical Widgets.
(Visited 5 times, 1 visits today)