Well, after much dithering, dawdling, hemming and hawing, I finally made a decision. I'm heading to the BlissDom blogging conference in Nashville next month. That's right. I signed up and it's official. I'm going, y'all!
From the BlissDom Conference website:
The belles of BlissDom (that's you!) will descend upon Nashville, Tennessee on February 6 and 7 and stay at the fabulous Hotel Preston. Throughout the weekend you'll learn from other women about building your blog, your brand, and your business while achieving bliss in those other areas that are so important too: being a mom, a wife, and being true to yourself. We've got some amazing panels in the works with women who are all defining what Bliss means to them that are passionate about paying it forward and helping you find your Bliss.
I'm excited to meet lots of my blog friends in person for the first time. Are you going? Thinking of going? Click here for registration information. I'd love to see you there!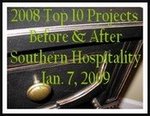 Tomorrow is Rhoda's Top 10 Projects Before & After blog party over at Southern Hospitality. It sounds like it'll be a lot of fun, so check it out.
Another blog friend of mine, Amy of Living Locurto, is launching a fun new photography blog on January 12 called I Heart Faces. Click on the button to get a sneak peek!
And finally, in case you hadn't heard, I set up a Hooked on Houses Facebook page for fans of my blog. Come and be my friend! You can also join my new blog network there (and if you have one, please let me know so I can join yours, too!). Thanks!
(Visited 1 times, 1 visits today)