I love old Craftsman homes like this. What surprised me most about this one is how the homeowners updated it. As you'll see when you peek inside, all of the original dark wood has been painted over. Even the hardwood floors are so light that they're practically white. They've given an old house a new look.
But does it work? Take a look around and let me know what you think!
–
My favorite part of the house: the dark gray siding with the bright yellow entry doors. Gorgeous.
The detached garage is used as a stylish office space:
Do you like the contemporary spin they put on the house and all of the white wood and pale floors, or would you prefer a more traditional style? I'm sure there are a lot of hardwood purists out there who are cringing that it was all painted over!
(Photos via Home Shoot Home, which has even more photos from this house if you want to see them. Home Shoot Home connects home owners with TV and film producers and is a fun place to browse!)
If You Love Craftsman Houses, Click Here to See More!
Do you like the look of a blue and white Christmas? It wasn't that long ago that anything but classic red and green for Christmas…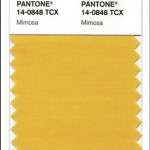 Pantone, which provides color standards for the design industries, has declared Mimosa, a warm yellow, as 2009's Color of the Year. From the Pantone press…