Take a look at this entrance hall from a Better Homes & Gardens decorating book published in the 1950s. BHG thought it was saying "Welcome!" What do you think it says?
"This entrance hall says __________________________."
If You're Hooked on Retro Rooms:
P.S. Are you following me on Twitter? I'm @hookedonhouses. If you do, then you know I've got a 6-year old with the flu here. Not a fun way to spend the weekend. Hope yours is going better than mine!
Check out this dining room makeover from Better Homes & Gardens in 1956. Clearly, the dining room was "hideous" before, deemed "gloomy" in the copy,…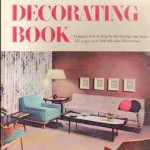 Those of you who have been reading my blog for very long probably know I'm a sucker for old decorating books like this Better Homes…