By JULIA @ HOOKEDONHOUSES.NET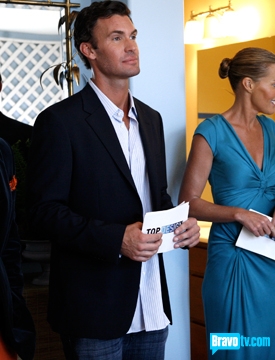 Look who showed up as the guest judge again this week. It's Jeff Lewis, from Bravo TV's Flipping Out. I'm not sure where Kelly Wearstler and her big hair and crazy outfits have been, but Jeff was such a great judge that I hardly missed her fingerless gloves and leg warmers this week.
In last night's episode, they were down to the Final Four contestants: Ondine, Nathan, Eddie, and Preston. In the poll I took last week, you were pretty much split as to who should win this thing: Nathan or Preston. Nathan had 41% of the vote and Preston had 40%. (Eddie and Ondine lagged way behind with 16% and 4%, respectively.)
Their challenge was to decorate one room well enough to convince the judges that they should move on to the finals. Here's how their rooms turned out.
Ondine's guest room-slash-study: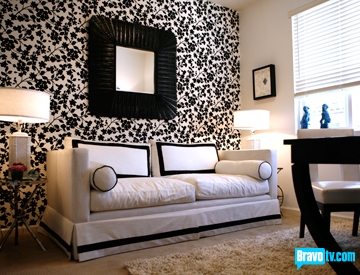 The judges flipped over this wallpaper and praised her for jumping on the black and white trend that is "so in" right now. They thought a throw pillow with some color in it would've been nice for the sofa, and the window wall was a little plain without curtains or color or anything. Otherwise, they loved it.
The wallpaper gave me a headache, though, trendy or not. And I wanted to reach through the screen and straighten the back cushions on the sofa.
Nathan's bedroom: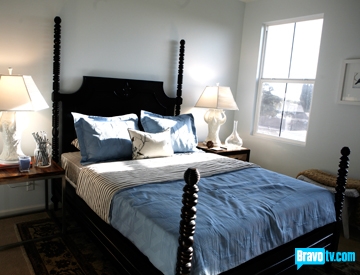 Nathan wanted to show them that he could "do pretty," but they weren't impressed. Margaret Russell said, "Pretty rooms aren't memorable." They preferred his psychedelic purple and lime-green girl's room last week.
I'm not sure I agree with Margaret's statement, though. What's wrong with pretty?
I think pretty gets a bad rap. That said, I'm not sure how pretty Nathan's room actually was. It was a little too bare and unfinished looking for me.
Eddie's bedroom: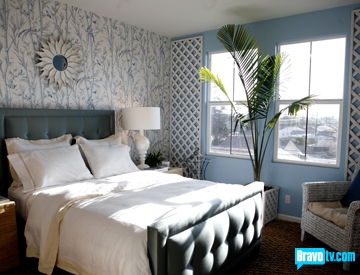 They ripped Eddie's room for being too old, bringing the "granny" charge against him once again. Jeff Lewis really, really hated it. He suggested that all it was missing was an oxygen tank. Margaret defended Eddie a little, but Jeff wasn't having it.
Preston's "lounge area off the kitchen:"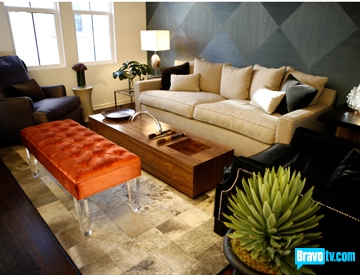 He hung grasscloth wallpaper to create an interesting pattern on the wall. They liked everything but the orange bench, which Jeff Lewis felt was too big for the space. Looking at this photo, I have to agree. It looks kind of cramped in there. You'd think he could've used it in place of the coffee table if he wanted to keep his "signature splash of color" in the room.
I think this room came closest to Jeff Lewis' aesthetic, which is probably why he liked it the best. Doesn't it look like a room Jeff would do?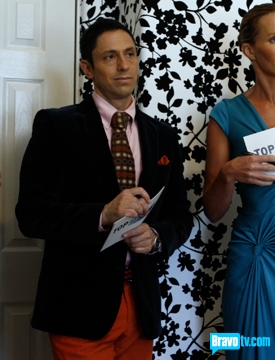 The judges awarded the win to Preston. Praised Ondine's work. Warned Nathan that he'd better step it up and be more consistent. And gave Eddie the boot.
Jonathan Adler scolded Eddie in his blog entry today, saying:
"Words of advice for dearly departed Eddie Ross: Be humble, focus on your creativity and talent, find your own voice (it should be a YOUNGER VOICE, btw, you don't have to parrot your employer), don't worry about labels (stylist, decorator, designer, elf, whatever!), be nicer to salespeople in stores, and, for God's sake, please don't ever refer to yourself in the third person. Thank you."
He goes on to rave about Preston, saying he might just be the next famous lifestyle brand to emerge, and to say that Ondine does a great job in the whole-house challenge next week: "Y'all, just wait and see what she concocts in the finale."
Is this a hint that the winner might be either Ondine or Preston?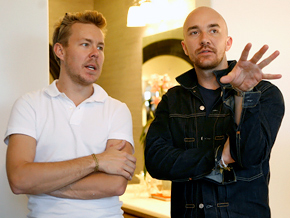 Eddie may not have made it into the finale, but at least he made a good friend. He and Nathan really hit it off. Did you notice that big smack on the lips they gave each other when Eddie said goodbye?
Who are you rooting for to win this thing now? Did this episode change anyone's mind about Ondine? Do you think they made the right decision to send Eddie home?
Discuss.
~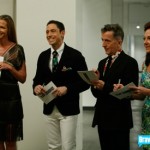 By JULIA @ HOOKEDONHOUSES.NET Believe it or not, last night I finally had a chance to watch "Top Design" for the first time in several…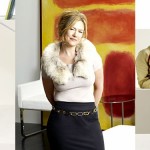 Boy, what a crazy week it's been. If you follow me on Twitter, then you know I spent Election Day in the hospital while my…