By JULIA @ HOOKEDONHOUSES.NET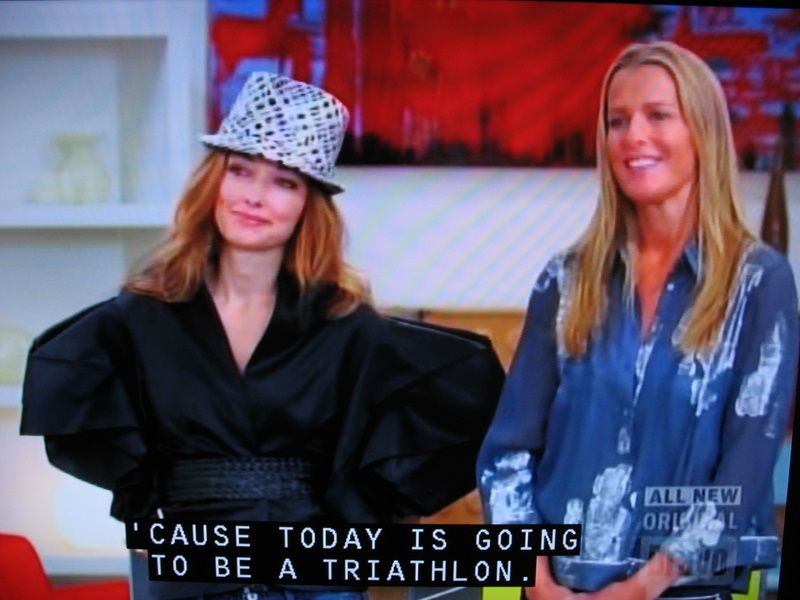 At the beginning of last-night's episode, Eddie Ross says he wishes they would be given some individual challenges now. So do I! I understand that group challenges bring on the interpersonal drama, but it's hard to know what someone's style really is if they're always working as part of a team.
Tonight our wish for individual challenges is granted, three times over.
India and Kelly (whose arms seem to have disappeared inside the comically large sleeves of her outfit) inform the contestants that they will be participating in a Decorating Triathalon.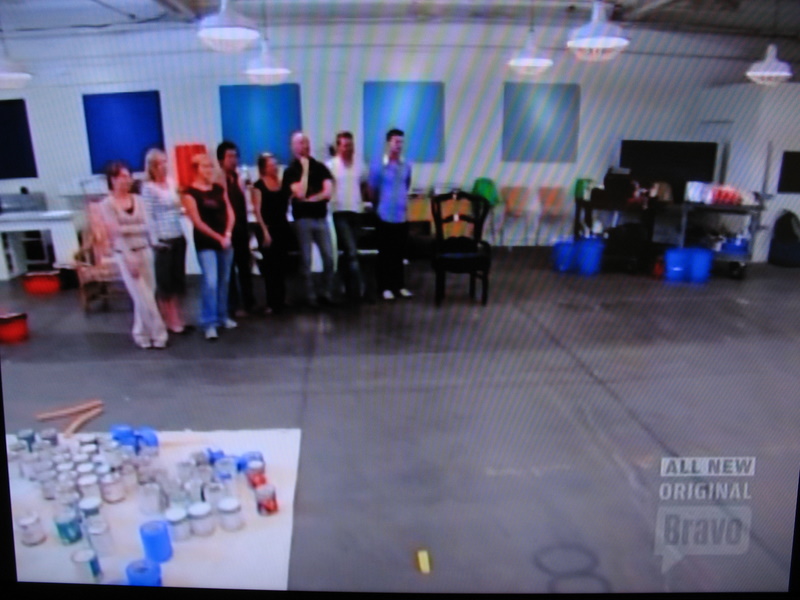 There will be three challenges, the first of which is to choose a chair and give it a makeover. And they're off!
After spending two hours painting and upholstering their chairs, Kelly and India walk around to see the results and judge them.
Wisit hand-painted the fabric on his chair, and the judges were impressed: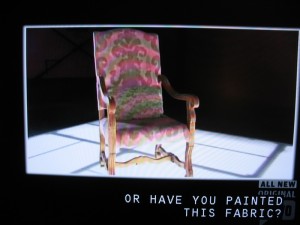 Eddie went for a bright yellow with silver fabric on the seat. Kelly and India like it, but Jonathan's take on it (on his blog on BravoTV.com) was that it "felt like a Saturday-morning cartoon."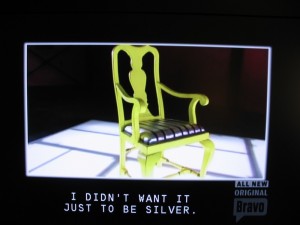 Jonathan Adler said Natalie's chair made him think of "Prom Night, 1987." And not in a good way. Kelly says it looks like "a remnant from a Vegas hotel."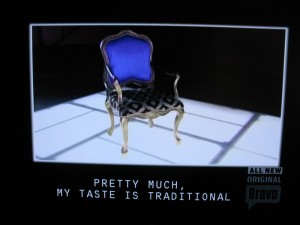 Andrea's chair was kind of blah and not upholstered well. She practically cowers behind it when the judges come by and admits, "I'm not having a very good day."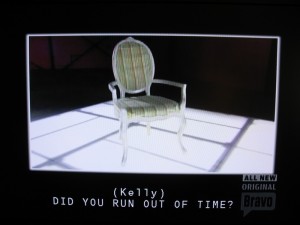 Teresa's chair looked a little tie-dye: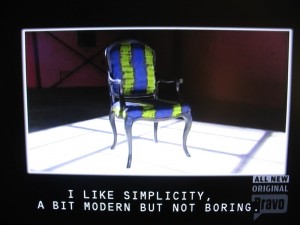 Ondine went for a Betsey Johnson vibe, and I think she nailed it. It would certainly fit into Betsey Johnson's decor (take a tour of Johnson's home here). Kelly and India thought she took a risk and it paid off. I wasn't crazy about the pom-poms hot-glued to the back of the chair, but I thought the hot pink color was kind of fun. The judges didn't ask me, though: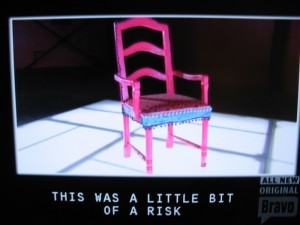 The judges LOVED Nathan's chair and gave him the win. It was fashion and art colliding as one. Or something like that. Kelly and India deem it "Loud in a good way." Kelly said it "looks like an important piece of furniture." Does it? Really?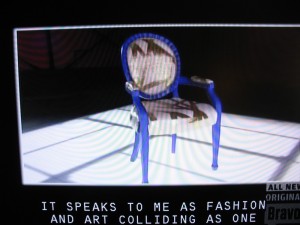 Next leg in the Decorating Triathalon: Set a Pretty Table. Seriously. Okay, so they go shopping in the Top Design warehouse and then set their tables. Here's how they turned out:
First up, Teresa's table, which she describes as being "Zen." We'll hear a lot about Zen out of Teresa in this episode. Not crazy about the floral arrangements, or whatever you want to call them, on her table. Jonathan Adler made an "I smell something unpleasant" face when he saw it and heard her "Zen" description:

Natalie's table was blue and white. Jonathan sniffed at her flower arrangement and said, "The taste level just isn't there," but he liked the rest of it:

Eddie's table had something to do with the Hamptons, I think. They declare it "so chic!"

Andrea set a table for her daughter Faith's birthday party: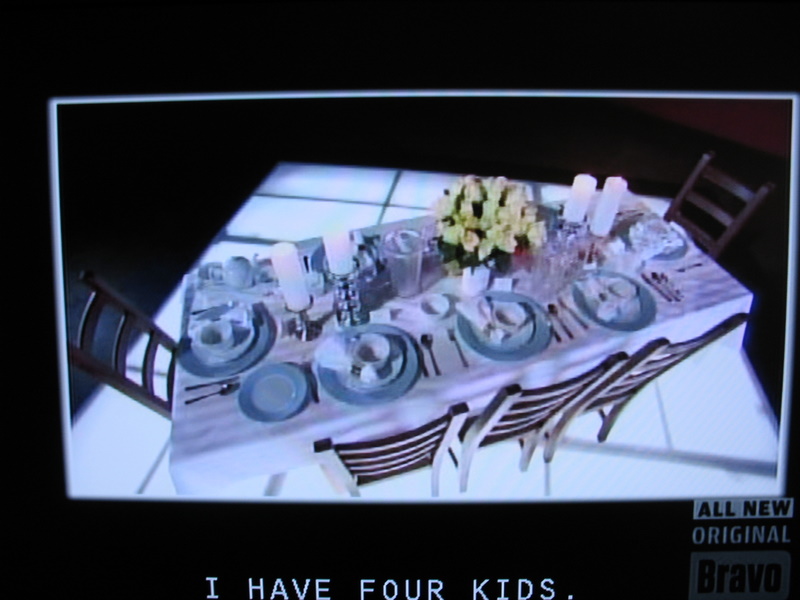 Wisit entertained the judges with some operatic singing, which they praised as "wonderful!" (really?!), but they had less to say about his table.

Nathan went a less conventional route and didn't actually set the table. The judges ate this up. They raved. They felt transported to the French countryside, or something. Jonathan said it was "done with panache."

The judges declare Nathan's "deconstructed table" the winner. He remarks that he's sure he's gonna be poisoned by the other contestants for winning two in a row.
For Round 3, they're told to decorate a white cubicle with things they buy from a nursery. As in a place that only sells bird baths and plants. The winner's fake room will be photographed for Elle Decker (as India Hicks calls it).
First they shopped: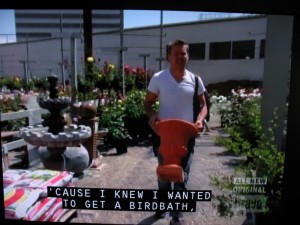 Then they go back to their cubicles with three walls and start to transform them with paint and plants. These look like the white rooms they worked in last season on every episode. I'm not too happy to see a return to them.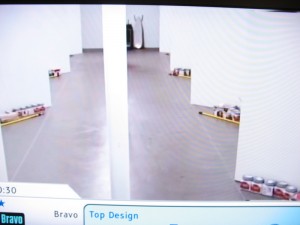 They painted. They arranged their pots of plants and flowers. And now the judges have arrived.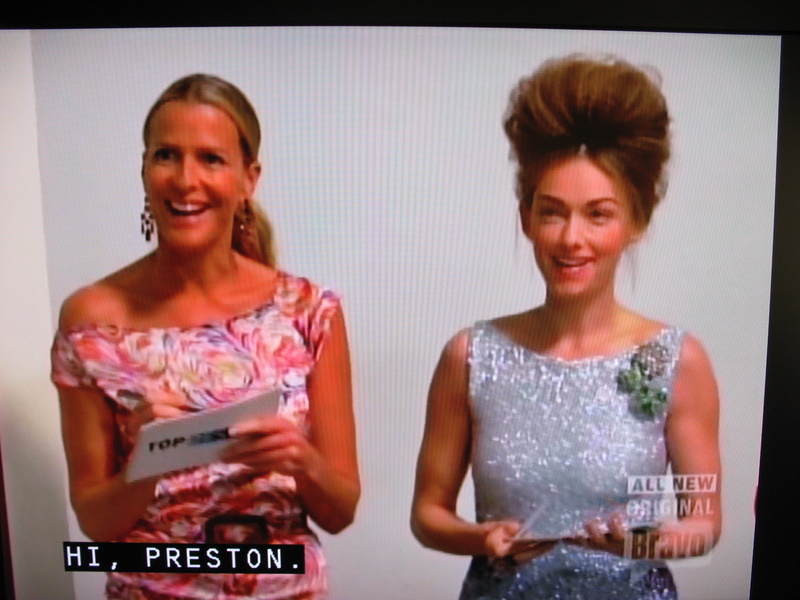 Okay, my husband and I laughed out loud when Kelly Wearstler rounded the corner in this 'do. It was definitely the most interesting thing about the episode. And a bigger "wow" than any of these faux-garden rooms that you're about to see. I should probably just stop the recap here on a high note. (Get it? A "high" note? Because her hair is so high? Oh, never mind.)
Preston went wild with stripes. I swear I sold this exact wallpaper pattern when I worked for Wallpapers to Go in the mid-90s. They say nothing about the stripes (which I really hate), and go wild for the jasmine intertwined on his chair.
My question: can anyone actually sit in a chair intertwined with jasmine?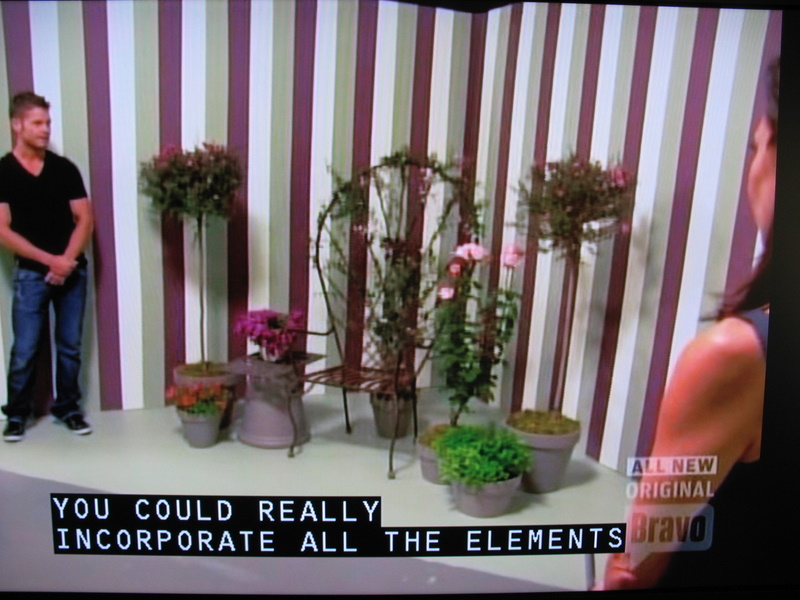 Teresa went for another "serene, Zen space," which apparently means you paint everything dark red and put lots of leafy plants on the floor.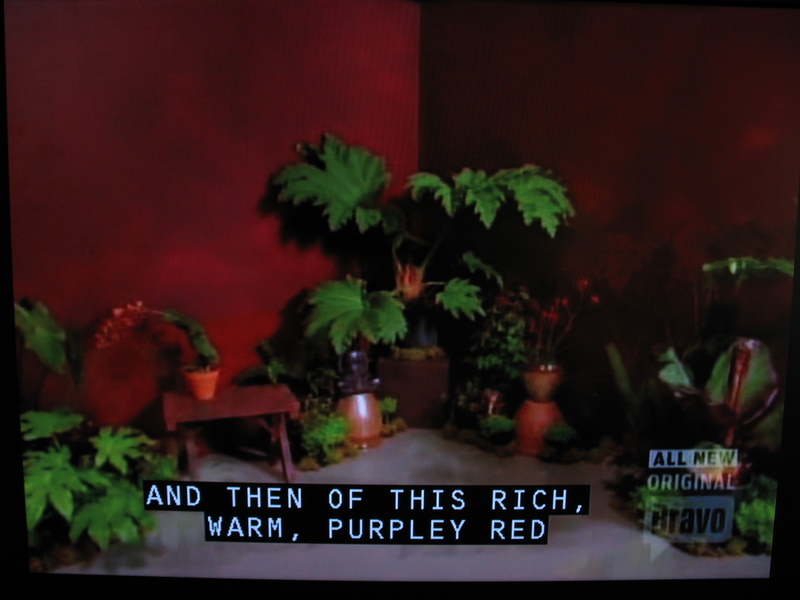 Wisit actually tried to make his space look like a room with faux french doors, a bench, and herringbone floors. I think this should win because it actually sort of resembles a real room, unlike the others. Not sure how well this would photograph for Elle Decor, however.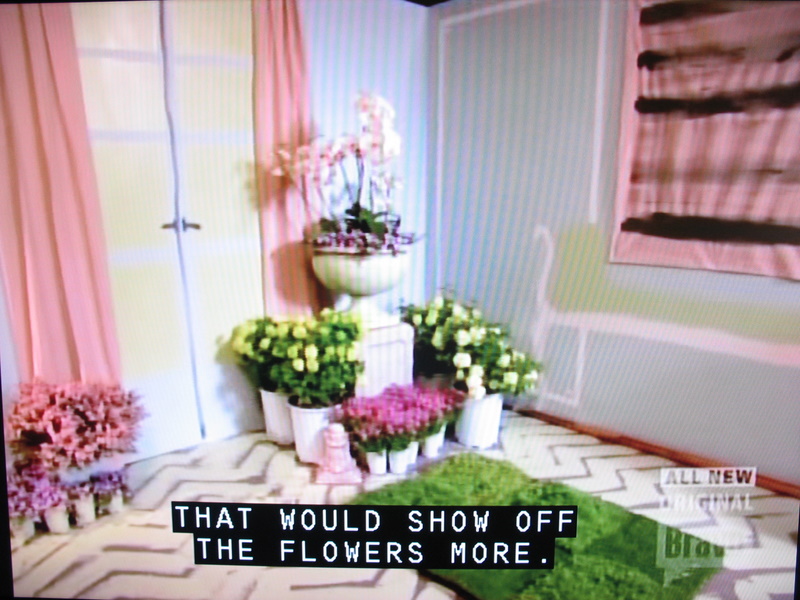 The theme of Nathan's room is, "I have immunity, so I'm not too concerned about this challenge. Let's just say this is a beachside kind of shack in baja. You know, where you'd wear flip-flops and tank tops."
Sure, Nathan. Whatever you say. I can't stop looking at your plaid pants.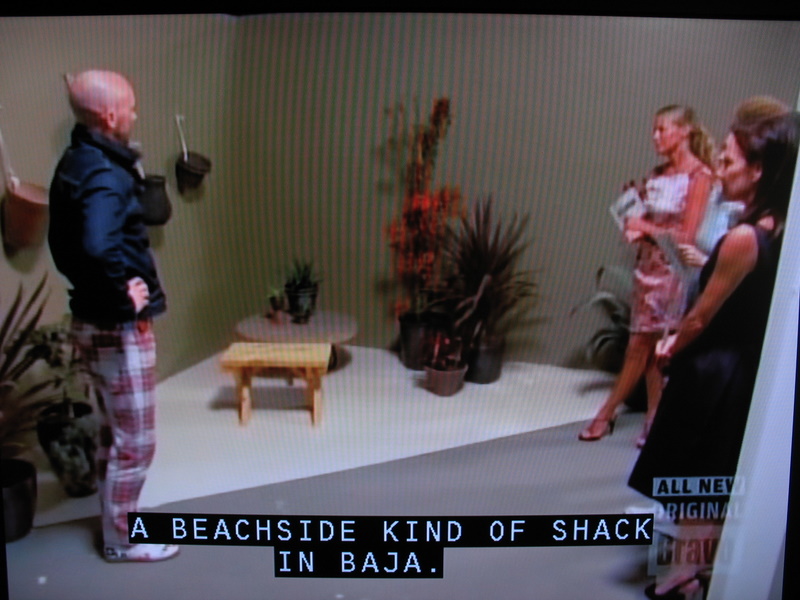 Ondine went for an eye-popping kelly-green room. I like kelly green, but this is a bit much for me and my retinas.
I'm not sure what happened to the shutters on her fake window or the window panes. It's never mentioned, never explained.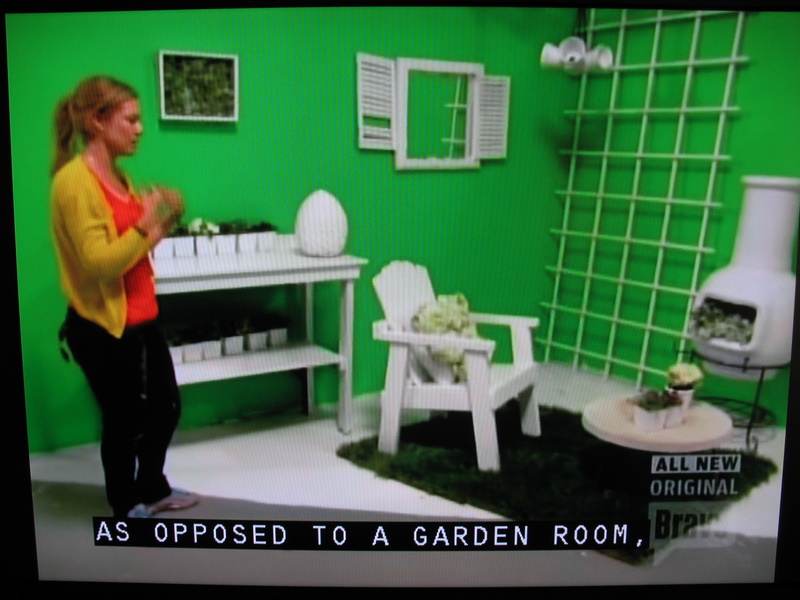 Andrea's theme is an edible garden, with yellow walls and trees that aren't in pots. There are just clumps of dirt with the roots exposed. The judges are puzzled by unfinished look of it. Jonathan says he wishes she had shown some sort of creativity with some sort of material, somewhere. Me, too.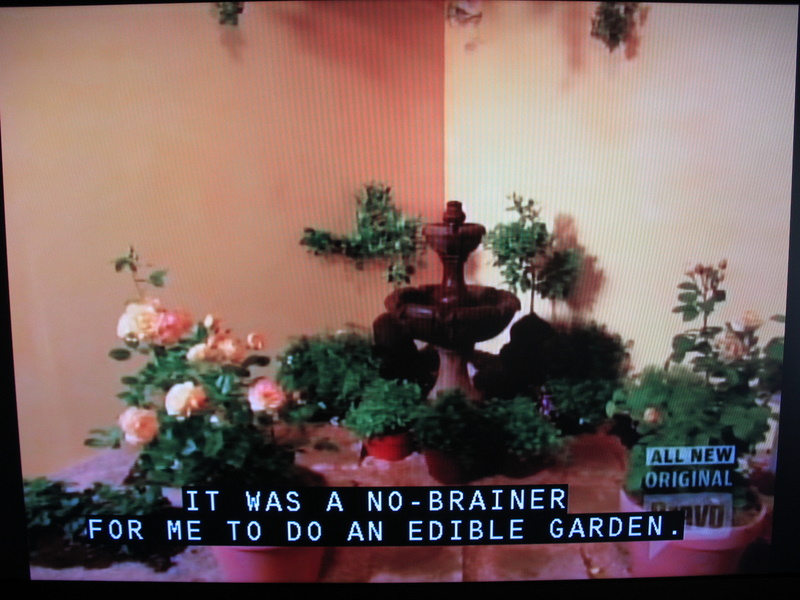 Eddie says his garden space is all about GLAM. The judges say, "It's more GRANNY." Eddie is highly offended by this, even though he had just finished telling us that his grandmother was his role model and inspiration as a decorator.
"I'm, like, the furthest thing away from Granny!" he says, indignant.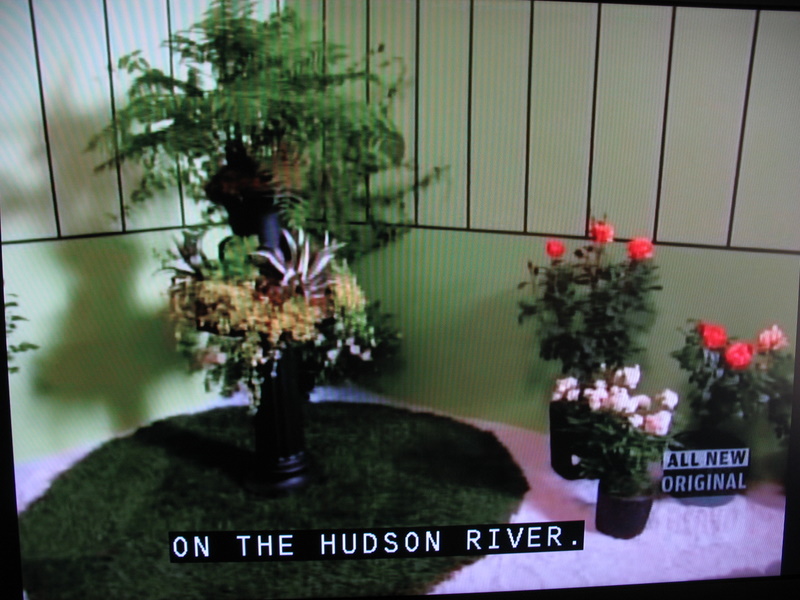 Natalie's garden room wows the judges. Margaret says she can see putting this in her magazine. I don't really see why this vignette is any better than any of the others, and I can't imagine how it will fit into Margaret's high-style mag, can you?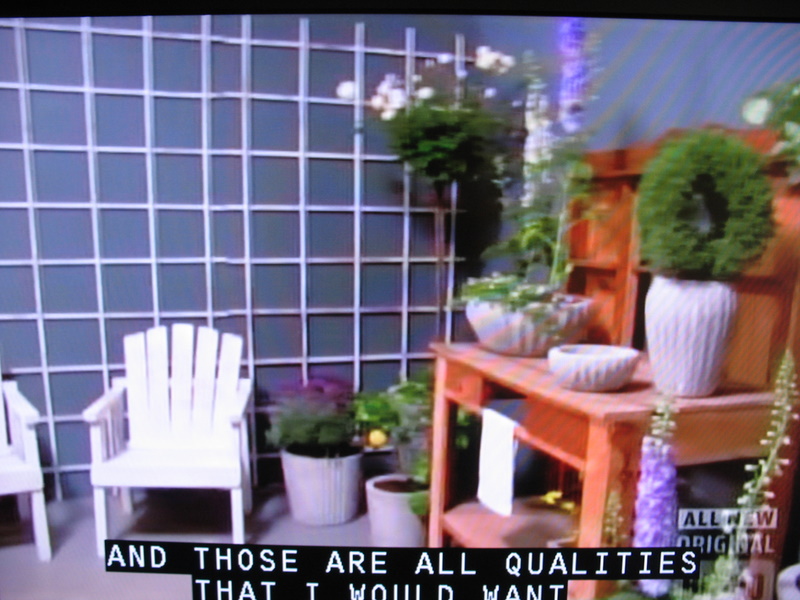 On to the Judging Warehouse, where the contestants file in for the verdicts.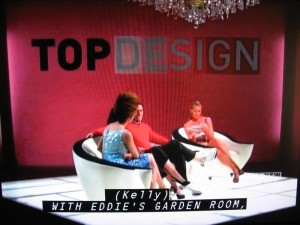 They declare Natalie the winner of the faux-garden-room challenge, and Nathan the overall winner since he rocked the first two rounds.
As for the losers, they're pretty down on Andrea and Teresa.
They warn Andrea that she "runs the risk of being insipid."
India adds, "You're a red-hot chick, so go out there and get 'em!" I'm sure this is the most helpful career advice Andrea has ever received.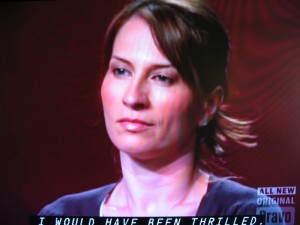 In the end, Teresa and her Zen sensibilities are out. They can't live with her designs. Teresa seems like a perfectly nice person, but I think they got it right this week. Do you?
Frankly, I found this entire episode dull, uninspiring, and a little ridiculous. I didn't understand the point of those faux-garden rooms.
I would love to see the designers given a realistic budget, real rooms, and enough time to put together something really great. Something that would inspire and excite us. Not fake trellises and plant groupings on the floor.
Please, Bravo reality-show producers. No more making contestants shop in grocery stores, garbage dumps, and hardware stores. It was novel and fun in the beginning (like, 5 years ago), but now it's just getting old.
Let them shop where they want. Give them the time they need to pull their visions off! The results would be so much more interesting than these rush jobs. Even Jonathan Adler admitted on his blog that he could never whip together something with these kinds of time constraints.
Okay, I think I'm done with my rant. Just had to get that off my chest.
One great thing about my new website is that I can finally put a poll right on my site instead of sending you off to vote on things elsewhere. So let's try it out and see what you guys think about the remaining contestants.
(Visited 1 times, 1 visits today)