This was the last cover of House & Garden before the mag folded in 2007. Since House & Garden is now gone and so is its website, I thought I'd show the photos of her Hamptons house for those of you who missed them. I think her house looks like it belongs to her, which is always refreshing when it comes to the big-time celebs.
She's married to Chris Martin of Coldplay and they have two children together, Apple and Moses.
Here's Apple's bedroom, with a sweet pink and white canopy bed:
P.S. Check Out Gwyneth's Other Homes: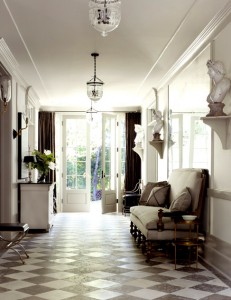 P.S. Visit my Celebrity Houses page to see more famous digs!
Actress Teri Garr's charming California cottage has 2 bedrooms, 3 baths. She just sold it for an undisclosed amount, but it was on the market…
Britney Spears has reportedly put her 7,500 square-foot Beverly Hills, California, mansion on the market for $7.8 million. Described as an "exquisite gated Italian Renaissance-inspired villa,"…