Another week has flown right by, which means it's time for another Design Star recap! Are you ready? Grab a bowl of popcorn and settle in.
Tonight's episode starts with Clive making his entrance through a regular set of doors inside the house, which is kind of disappointing after seeing him arrive on boats and planes before. There's not even a bullhorn or air horn in his hand. He simply greets the gang and beckons them into the work area.
They line up and Clive gives them their challenge for the week. They will be designing suites at Nashville's Opryland Hotel. Not only that, but the decorating must be inspired by multi-platinum recording artist Sara Evans. The Designtestants have 28 hours and $15,000 per team to pull it off.
But first, they will choose teams–dun-dun-dunnn–"playground-style."
Jen and Trish get to pick their team members because they draw the lucky paint lids. Jen immediately picks Matt, proving that she's no dummy (kind of expected her to go for her BFF Steph, though). Trish chooses Mikey V, who immediately sweeps her off her feet.
They are thrilled to work together. They say, "We've been wanting to work together!" Did we know they were so close?
Wow. I mean, they are really excited.
Then Jen chooses Steph. That was a no-brainer. Tracee already has a bad reputation when it comes to teamwork and this is only episode 5. Poor Trish has no choice but to let Tracee join her team.
Mikey V. isn't gonna lie. He's not looking forward to working with Tracee.
(On the HGTV message boards, someone commented that Tracee's "Barbie Dream House Gondola-Bed" room that she did last week would've looked more Italian if she had smeared spaghetti on the walls. I say, let's not give her any ideas.)
So. They get to ride in Sara Evans' tour bus to her house to ask her what she'd like her Opryland suite to look like.
Matt tells us that his team got to interview her first. He's good at asking questions. For instance, "What do you want people to see and feel when they walk in the Sara Evans Suite?"
Sara explains that she really, really loves Shabby Chic. Like, a lot. Even though no one really talks about Shabby Chic much any more, do they? She loves it, though, as you can see from the Shabby Chic colors on her walls, her Shabby Chic chandelier, her Shabby Chic kitchen, etcetera.
What Sara doesn't like is "matchy-matchy," like where the bedspread matches the curtains and screams "Quality Inn!"
Her style, she says, can be summed up as "Southern Elegance."
They ask what her favorite thing is in the house and she says, "I've replaced all the doors with old doors. I'm really proud of them." Okay. I didn't expect her to say that, did you?
They show a close-up of some of her doors and the words "shabby" and "chic" are mentioned about 15 more times. I think we all get it.
Okay, is anyone else wondering if this is REALLY Sara Evans' house? How can her house be so tiny? They practically walked in from the front door into the kitchen, and it looked like a regular size. This has to be the guest house behind the main house or something, right? I mean, it's very nice, but not Country Superstar Nice.
Back on the tour bus to go to the Opryland Hotel, y'all. Clive is waiting for them. He says "Your time…starts…NOW." (But this week there is no checkered flag, and I'm afraid some of the excitement is lost without it. No bullhorn? No flag? It's like Clive isn't even making an effort any more.)
They rush off to check out their identical suites. The front room of each "has a circular plan," as Matt says, and he likes the possibilities. The bedroom is in a separate room behind it.
Jen's team cleverly picks a color called "Silver Sage" because it mimics the color Sara had on her walls at home. They also remember to measure the opening of the doorway leading to the suite and the stairwell before running off to shop for furniture. Smart thinking, guys! They conclude that 7 feet is the max for a sofa. Bigger than that and it won't fit. (This sure has the feeling of foreshadowing, doesn't it?)
Over at Trish's team, Mikey V is anxious for them to come up with a POA, "because a Plan of Action keeps you organized." Trish keeps calling it a POV by accident, and he shouts, "POA! POA!" "Right," she says. "POA."
Trish wisely assigns Mikey V the job of "creating and keeping the POA for the day," which seems to please him. And let's face it, he would've done it anyway. He lives and dies by the POA! (Must be that police-force training in him.)
Jen's team immediately finds a (short-enough) sofa, a sofa table, and a coffee table. Jen says they "totally scored. Now we just need to start femininizing it." Femininizing must be the professional design term for "shabby chic-ing." I'll have to mark that down.
Matt says, "Sara Evans loves old pieces incorporated with new," so they make a beeline for a room piled with antiquey pieces. This is all part of femininizing the space. There's a fantastic armoire, Matt says, distressed and in pieces, that they snatch right up. (For some reason my closed captioning refuses to turn off tonight. Technology hates me.)
Meanwhile, over on Team Trish, Tracee is already messing up Mikey's POA and making him crazy. She's taking wayyyy too long to shop and make decisions. To tell you the truth, she looks an awful lot like I do when I'm shopping. "What about this? That is so pretty. How much is that? I can't decide. This might work. What do you think?"
Trish rolls her eyes. She's not having any of it. She's staring daggers into the back of Tracee's head, but Tracee remains happily oblivious.
Trish: "We were like, let's go, let's go, and Tracee was like, 'Let me see all the options.'" There's a funny montage of Tracee happily shopping away while Mikey grits his teeth and Trish looks exasperated.
Back to the suite, Jen is rolling Silver Sage on the wall. She says, "Wouldn't it be funny if they chose the same color?"
Cut to Mikey V, painting what appears to be the exact same color on the walls of their suite.
KNOCK-KNOCK!
Matt says, "I know that knock. It's a Clive knock!" Sure enough. "That was such a showbiz knock," he says. Clive looks at his watch and says, "Time's up!" Again–no whistle? Nothin'? Is the props guy taking a personal day?
Commercial break and then it's the next day and the gang is back to work. Some will stay and paint while others will go out shopping. Trish is painting the bedroom for her team (antique rose, since the lemon they tried the night before looks neon in the daylight), while Mikey and Tracee go shopping together.
First stop: a door store, where they try to choose four that they can use to make headboards. Tracee wants something really rustic and beat up and old looking, with the paint chipping off, since "that's Shabby Chic," in case you didn't know. Mikey isn't sure they should have paint flaking off on peoples' heads when they're sleeping in the bed.
But she insists: "I'll take ownership of this. If the judges don't like it, I'll take the blame and let them send me home."
(Please don't get my hopes up.)
Back at the ranch, Matt is hanging pieces of the old armoire around the room, making bookshelves, and other creative things. He says, "It just evolved." So far, it's looking promising. Very Shabby Chic. (I'm starting to wonder if Rachel Ashwell is sponsoring this entire episode. I haven't heard the term "Shabby Chic" thrown around this much since, oh, about 1998?)
Stephanie is off shopping. She is not coming back as quickly as expected. Matt is stressing, but Jen reassures him that this just means Steph is getting lots of good stuff. She won't come back empty-handed. Don't you worry, Matt. It'll all be fine.
Whenever they say things like that, you know the other shoe is about to drop on them.
Steph returns at last and says, yeah, she got some good stuff, but you guys still need to do a little shopping. Like, for a sofa, and an armoire, and, you know, about 50 other major pieces of furniture. But, hey, she got a couple of pretty vases, I think. Good to get those checked off the list!
Matt is not happy. But he and Jen take off to hit the stores. No time for chewing Steph out or anything like that.
They end up getting everything they need but the sofa. That'll have to wait until tomorrow. They can put Stephanie in charge of that. Stephanie can handle that kind of responsibility. They're sure of it.
No worries.
Tracee and Trish go shopping and find a great little antique store. They pretty much clean it out. They're getting along great now and even give each other a happy high-five.
Back at the suite, Mikey V has the door-headboard finished by the time they return, and they squeal with delight. He did a great job. Tracee reminds us all that she's totally claiming them, because she was the mastermind behind those old, flaky antique doors that he used to make the headboards with.
Suddenly Team Trish seems to be surging ahead of Team Jen. What's happening here? Trish explains that Tracee really wasn't so bad to work with this time around. They didn't let their differences in the past get in the way and worked together well.
Sara Evans sends both teams shadow boxes with platinum albums in them to use in the rooms. Matt explains that they'll put it off to the side because "she isn't a flashy person." You won't see it when you first walk into the room. They'll just tuck it around the corner where it won't smack you in the face with how big-time and accomplished she is. She wouldn't want to look all braggy.
Stephanie comes back with the sofa, but, d-oh! It doesn't fit through the stairwell. How did that happen? They were the team that actually measured!
Matt is exasperated. He asks, "What is Plan B?" Steph shrugs. "I guess we don't use it in the room." Matt thinks this "sucks."
And I think, Why is 'give up' their Plan B? Is there no freight or service elevator in this entire, sprawling Opryland Hotel? Is there no way to take the hinges off the door to try to make it fit? No one at the hotel you can ask for help? Nothing?
Time is winding down. Clive is walking stealthily through the hotel hallways, air horn in hand (finally! a prop!).
He is momentarily distracted by the giant sofa still stuck in the stairwell doorway.
Clivey (as Lisa LaPorta calls him) blows the air horn. The fourth challenge is complete! Yay. Trish says she feels "amazing."
Clive says that they will have their first real hosting challenge now. They must explain their rooms to the viewers. We don't really get to see that, though. After the commercial break, it's time to face the judges.
We get to see little snippets of each of the contestants doing their best to look intelligent on camera. It proves harder than you'd think. Tracee stutters a lot–which she insists is not like her at all. She's usually so confident. Stephanie thrusts out her chest like she's flirting with us. Mikey V. appears to be challenging us to a fight. Very intense. Matt, Trish, and Jen all look comfortable enough as far as I can tell.
But frankly, there's just not much for us to go by here. I want to see more of their videos.
These producers need to talk to Tyra.
Tyra Banks knows how to show us all the behind-the-scenes flub-ups when her girls on America's Next Top Model make hilarious attempts at stringing two sentences about lip gloss together for a Cover Girl commercial. Don't they know we love that stuff?
So. After that quickie montage, Vern tells Mikey V, "I'm scared of you. It's like, This is shabby chic. You're gonna love it or I'm gonna hurt you."
They say the best hosting job is done by Trish, but how can we tell when all we saw was about three words coming out of her mouth in the clip? I guess we'll take their word for it.
Vern tells Tracee to try to look like she's having fun when she's on camera.
He tells Stephanie she needs to channel her "fun personality" so she looks more professional, and to stop thrusting her chest out at us. (Not a direct quote, but I think that's what Vern meant.)
The others? I dunno. Martha said something about them all having their own distinctive style, yadda yadda.
Okay. On to the room reveals. Team Jen is first up. Here's how it turned out:
Sara Evans loves the distressed wood, loves the green walls. She has a lot of these colors in her house, she points out (what a coincidence!).
She loves white furniture and how they mixed and matched the chairs around the table (she hates "matchy-matchy"). She loves that things don't match.
HOWEVER. The leather sofa is "uncozy" and has. To. Go. (Apparently that pillow got the message. It's already on its way out.)
Moving to the bedroom. Sara Evans loves it! She loves the Shabby Chic-ness of it all. (Why does no one ever mention the fact that there is a big honkin' fluorescent light smack dab in the middle of the ceiling? In a bedroom?? I have to say that is NOT very Shabby Chic.)
Sara immediately climbs into one of the beds. It's so comfy! Just like her bed at home!
HOWEVER. It really would've been nice if they had painted all four of the walls and not left one stark white. (Why DID they do this? I don't remember any discussion of "Let's paint all but one wall in the bedroom," do you?)
Martha says she loves the artwork. They show three tiny pieces clustered together on the wall. Okay. Vern approves of the color choice, which is deemed tres Shab, tres Chic (yeah, I took French in college, so I can throw foreign words around like that).
"But what's with the empty desert of nothingness in half of the front room?" Vern wants to know.
Um, well, lots of hemming and hawing over this one. Stephanie blinks hard and says it was a strategic decision made by the team because they didn't want the suite to feel too crammed with furniture or anything.
Huh?
Vern calls it a really, really bad strategic decision, if that's what it was. He looks skeptical.
Jen tries to give Steph about five chances to come clean and just tell the people what happened: the sofa was too big to fit through the door. But Stephanie sticks to her story.
Ooh. It's, like, really awkward now.
Cynthia Rowley–wearing WHAT exactly around her neck tonight? Who does she think she is, Kelly Wearstler?–wants to know who did what. Stephanie acts like she can't really remember, and turns to her teammates for help. They stare at her and give her meaningful looks to communicate: "Just tell them what happened, Steph! You're making this all very weird for us here!"
Martha reprimands Steph for "not owning what you've done." Clearly, the judges know exactly what happened with the sofa behind the scenes and they're trying to drag it out of her.
She isn't budging, though. I'm almost embarrassed for her. Now she's turned a simple mistake into what feels like an incident. The Missing Sofa Incident.
Why the cover-up, Steph?
Vern tries again: "We need to know where the accountability lies here."
They finally give up on getting anything out of Stephanie, although when they ask whose responsibility it was to get the sofa, I think Steph does manage to raise her hand real quick before darting off the stage. That wasn't exactly the tearful confession I think they were hoping for.
Up to Team Trish. Well, Sara love-love-LOVES their room.
She can't believe how great it is. How perfect!
She declares it "THE Sara Evans Suite."
They weren't stupid enough to bring leather into a Shabby Chic room, or leave one stuck in a doorway downstairs, either. It's just a big, fat success all the way around.
She especially seems happy to see the big basket of coffee and goodies on the bar. This is what she was talking about!
She loves the turquoise nightstand. She looks like she might be plotting to take it home with her:
Oh, and she's a big fan of the distressed doors-as-headboards, and Tracee is totally claiming the victory.
I'm stunned that somehow The Team with Tracee didn't totally screw up. And the team with Matt did. Can't Matt catch a break here? If he goes home over this, I'm warning you, I'm gonna be upset. The recapping might get ugly.
They march back to the Green Room, where the gang immediately bursts into tears, as usual. Jen says she's "gonna do a Michael." I love that Awesome Mike inspired a catchphrase like this after last week's dramatic exit. (Don't cry for Awesome Mike, though. He's in a better place now, I'm sure–with his Momma.)
At the judges' table, Vern says he would've thought Team Jen would've had better results with their room. I know! My thoughts exactly.
They bring them out. Whew! Matt is safe. He's sent back to the Green Room. Will it be Jen or Stephanie? I think we all know.
Yep. Clive tells Stephanie that her show has been canceled. Her "On Air" light flickers and goes dark. So sad.
Stephanie steps bravely into the Service Elevator of Doom (what do you want to bet the hotel had a similar one she could've used for that sofa?). Her chin quivers as she thanks the viewers for giving her the chance to make her dreams come true. She believes the experience has made her a better person. (Maybe. Except for, you know, the part where she made up a story about the missing sofa.)
Roll credits.
And that does it for Episode 5. What did you think? Did you like the Shabby Chic-ness of it all? Was anyone else iffy on that wall that Tracee stenciled behind the bar or did you guys like it? Were you surprised that no one painted anything black? Did the right person go home tonight?
Let the comments rip!
If You're Hooked on Home-Improvement Television:
If You're New Here: Hooked on Houses features decorating inspiration, celebrity house tours, fabulous before and afters, real estate news, fantasy open houses and more fun stuff. I love hearing from my readers, so I hope you'll leave a comment and join the conversation!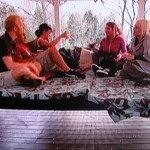 Okay. So lots of you wrote in last week and insisted that you are still watching "Design Star" with me and faithfully reading my weekly…
Okay, here's another one of my reality-TV addictions that I'm admitting to. I can't get enough of "Flipping Out" on Bravo. Is anyone else hooked…