Madonna's Manhattan apartment was featured in Architectural Digest back in the early 1990s, but I just came across it on their website recently. I was surprised by the style, which 1) wasn't really what I imagined hers to be and 2) didn't really look as dated as you'd expect after nearly 20 years.
The design was done by her younger brother Christopher Ciccone, who has since written a tell-all book about her called Life With My Sister Madonna.
Madonna told Architectural Digest she loved her office because she could admire the Picasso over her desk while faxing things. Can you imagine? Your own personal Picasso to make faxing more interesting?
The kitchen looks surprisingly spartan and workmanlike. I wonder if she ever uses it? Does Madonna cook?
Forbes magazine recently named her #1 out of all the top female earners in the music business. She reportedly earned $72 million between 2006-2007 with money pouring in from both live shows and various merchandise.
Click here to see more celebrity houses!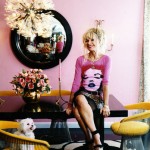 Fashion designer Betsey Johnson is one of a kind, and so is her NYC penthouse. For one thing, it's pink. Very, very pink. According to…
Actress Teri Garr's charming California cottage has 2 bedrooms, 3 baths. She just sold it for an undisclosed amount, but it was on the market…