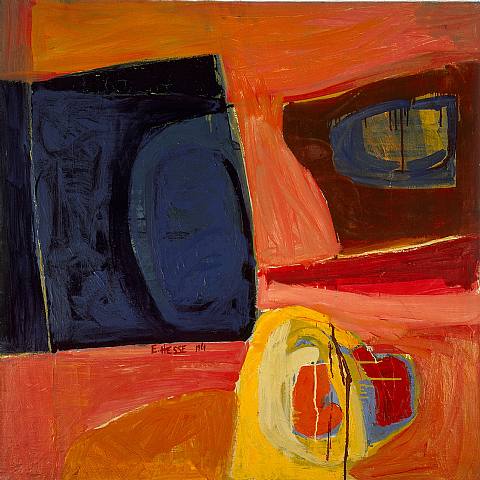 I've been thinking a lot about creativity lately, and how, for a lot of us, it's the fuel that keeps us going. It's what gives our lives color, direction, and meaning.
But sometimes we creative types can feel tied up in knots, just thinking-thinking-thinking so hard that we get stuck and never take any action. I can spend weeks–months!–just deciding on a paint color.
I am the Queen of Over-Thinking. Believe me. I can think something to death, waiting so long to commit to a plan of action that the opportunity passes me right on by.
Perfectionism can get in the way when we don't want to try something until we know exactly what the result will be. You may not want to start a novel, for example, until you come up an idea for a best-seller. Or you may hesitate to decorate your house until you have enough money to do it "right."
Other times we feel discouraged, deflated, unworthy. We're convinced we're not good enough or talented enough. It's easier to just give up. To not even try.
Hey, you can't fail if you don't try, right? No one can smirk at your decorating, criticize your screenplay, laugh at the song you wrote, or reject your short story as long as you keep thinking about creating something instead of actually doing it.
When Eva Hesse was a struggling young artist living in Germany, she appealed to American artist Sol LeWitt to critique her work and give her some advice. She felt that her career was at an impasse, and she wasn't sure what to do or where to go with her work next. She wasn't even sure if she was any good.
The letter he wrote to her in 1965 has become practically legendary in creative circles since it was published in 1976. I've kept a dog-eared copy of it in my study for years and am still inspired every time I look at it. Sometimes it's that kick in the butt I need to get moving again.
So consider Sol LeWitt's words an open letter to all of you creative types who want to move forward but are feeling frustrated, blocked, lost or afraid. I have a feeling I'm not the only one who sometimes needs a little encouragement:
Just stop thinking, worrying, looking over your shoulder, wondering, doubting, fearing, hurting, hoping for some easy way out, struggling, gasping, confusing, itching, scratching, mumbling, bumbling, grumbling, humbling, stumbling, rumbling, rambling, gambling, tumbling, scumbling, scrambling, hitching, hatching, bitching, moaning, groaning…grinding grinding away at yourself.
STOP it and just DO…
Try and tickle something inside you, your "weird humor."
Don't worry about cool, make your own uncool….
If you fear, make it work for you–draw and paint your fear and anxiety. You are not responsible for the world–you are only responsible for your work, so do it. And don't think that your work has to conform to any idea or flavor. It can be anything you want it to be.
And stop worrying about big, deep things such as "to decide on a purpose and a way of life…." You must practice being stupid, dumb, unthinking, empty.
Then you will be able to DO!
I have much confidence in you and even though you are tormenting yourself, the work you do is very good.
Try to do some BAD work–the worst you can think of–and see what happens!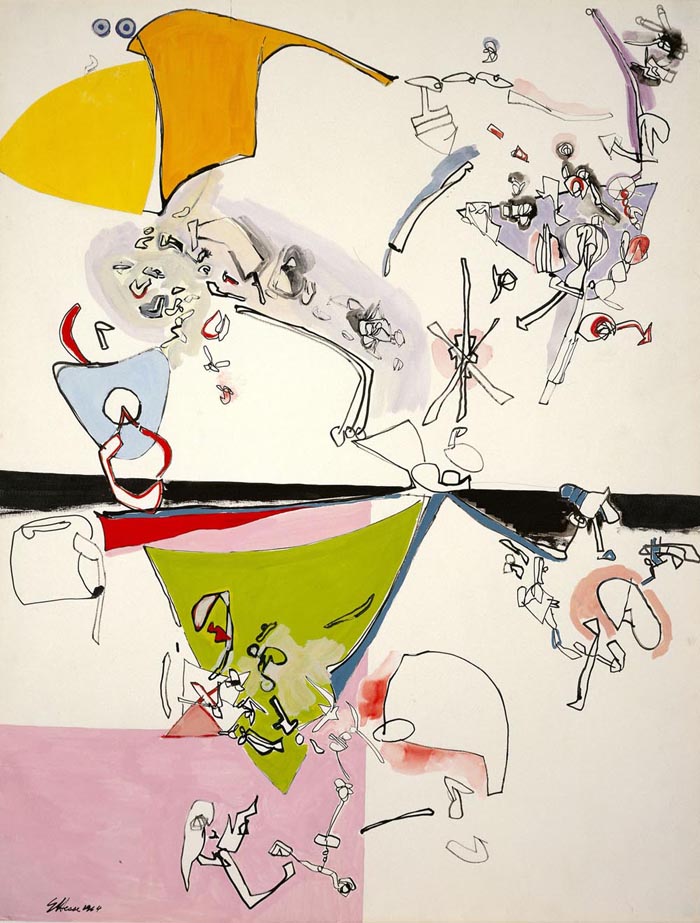 What have you been itching to try? What would you do if you were allowed to fail? What fun could you have if you stopped thinking-thinking-thinking and just let yourself play?
This is not the entire letter that LeWitt wrote, but excerpts from it. Both paintings shown here by Eva Hesse. To learn more about this artist and her work, click here. To learn more about Sol LeWitt's life and career, click here. To see a video clip based on his letter, click here.
(Visited 1 times, 1 visits today)