Christina Aguilera has won five Grammy awards and sold over 37 million records worldwide, but she's a mom now, too. The pop songstress and husband Jordan Bratman welcomed Max Liron into their family on January 12, 2008.
In their Mediterranean-style home in L.A., they decorated Max's nursery with an eclectic mix of Paddington Bears, Nintendo characters, and an 11-foot moon that had been onstage during Aguilera's Back to Basics tour. Christina says putting it in the room was Jordan's idea.
Max sleeps in the round crib in the center of the room. Look how cute he is:
Daddy Jordan holds Max in the nursery on a pale green glider with blue trim:
What do you think? Is the moon way cool or way scary? Do you like the mural? The round crib? The mixture of themes (Paddington, Nintendo, and Man in the Moon)? Do you like the colors? I'm dying to know.
Christina Aguilera's nursery for her son Max was originally published by People magazine (photos by Regine Mauhaux).
Remember that wacky Osbourne family and their reality show on MTV?
According to Janet Charlton's Hollywood, Christina and Jordan will be moving into the Osbourne Family's former home soon, so they'll have another nursery to decorate:
It took almost a year, but Christina Aguilera has finally erased every trace of the Osbournes that was lurking in the house she bought from them. Christina purchased the Osbourne's Beverly Hills house last summer for 11.5 million but hasn't moved in yet. She wanted to remove every gothic trace, every gargoyle, and all the decor that she considered tasteless.
The Osbournes were miffed when Christina declined to buy any of their furniture, (they ended up auctioning it off) but she completely redid the place from top to bottom – and child proofed it at the same time. Now that she and her husband Jordan Bratman and their baby are ready to move in, she put her old house on the market.
Here are some photos of the Osbourne House from when they owned it:
It looks like celebrity couple Angelina Jolie and Brad Pitt have decided to give birth in France this time around (the twins are due this…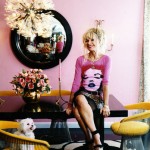 Fashion designer Betsey Johnson is one of a kind, and so is her NYC penthouse. For one thing, it's pink. Very, very pink. According to…