This was one of the houses we walked by on the house tour through North Avondale. This three-story home was built in 1908 and has 6 bedrooms and 4.5 baths, with a total of 6,500 square feet. It's currently on the market for $860,000, so I looked up the interior photos to show you (see the MLS listing here).
It's a lovely old home, but as I looked through the rooms, one of them stuck out like a sore thumb. It made me think of that game we played with the Telford Mansion recently:
"One of these things is not like the other. One of these things just doesn't belong."
Take a look and see if you agree that this particular remodel left one room looking like it was grafted on from another house altogether.
See what I mean? The remodeled kitchen definitely wakes you up and makes you go "whoa." Whether that's a good thing or not, I'm not sure. What do you think?
Stay tuned for more Rose Hill mansions. I'm downloading the photos as fast as I can!
If You're Hooked on Old Houses: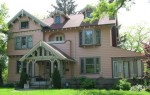 Let's continue our walking tour of North Avondale now and see what other interesting houses we can find--like this pink one with yellow trim, which…
It's time to show you the actual houses that were on the North Avondale Home Tour last weekend. This 1937 Normandy Manor, known as The…