Billy Joel released his first hit single, "The Piano Man," in 1973. He has since become a six-time Grammy winner with 33 top 40 hits and more than 150 million records sold worldwide. Joel announced that he was "retiring" from pop music in 1993 but has continued to tour, sometimes with Elton John.
Today he is married to cookbook author Katie Lee Joel, and they own an $18.75 million hideaway in the Hamptons.
Did you see them interviewed on Oprah? First of all, Billy Joel looked put out that he had to be there at all, and he was not pleased to have to answer Oprah's questions about his highly publicized series of car accidents and two trips to rehab.
Then when his wife joined him onstage for her portion of the interview and tried to hold his hand, he slowly…pulled it…away. It was all very awkward.
Billy married Katie in 2004 when she was only 23 and he was 55.
Despite the 32-year age gap between Katie and Billy, they insist it doesn't matter. Katie told Oprah, "He has this job that's allowed him to be really immature for a long time—rock star. And I happen to be more mature for my age, so we meet somewhere in the middle."
Billy added, "I've said this before—I would have married her if she was 30 years older than me," Billy says. "When it works and it clicks, you don't fight it. You go with it."
(I hate to be a cynic, but somehow I can't imagine he would've found her quite as alluring as an 85-year old.)
UPDATE: In June of '09, the couple announced that they're separating after 5 years of marriage.
Katie Joel was the original host of "Top Chef" on Bravo but only lasted the first season. Padma Lakshmi, the model/cookbook author, has been hosting ever since.
Now Katie is touting a new cookbook she wrote called The Comfort Table. The forward was written by Paula Deen. (I love Paula Deen! You can see her house here.)
To get the meatloaf recipe Katie shared on Oprah, click here. Oprah says it was delicious. You can see the dining and living rooms of the Joels' New York City apartment behind Katie in this photo:
To watch the video tour of the Joels' home in the West Village (decorated by the fabulous Nate Berkus), click here (they make you watch a short commercial first). This is a still photo from that home tour:
UPDATE: Their townhouse is now on the market. See it here.
The Piano Man made big headlines when he married "Uptown Girl" Christie Brinkley in 1985. Their daughter Alexa Ray (named after Ray Charles) is now 22 and pursuing a musical career of her own. Go to Alexa Ray's official website to hear some of her music. Billy and Christie divorced in 1994 but remain on friendly terms. She even attended his wedding to Katie in 2004.
Hampton House photos via Radar Online. Wedding photo of Billy and Katie Joel via Oprah Online. Photo of Alexa Ray and Christie Brinkley via Getty Images.
Visit my Celebrity Houses page to see more!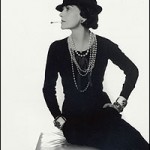 "Fashion is not something that exists in dresses only. Fashion is in the sky, in the street, fashion has to do with ideas, the way…
Okay, boys and girls. It's time to play "Can You Guess Who Lives Here?" Believe it or not, this unassuming kitchen belongs to a big-time…