Yesterday we talked about the difference a framed mirror can make in a bathroom. Today I'm going to show you the difference it made in one of ours.
This is what my 5-year old daughter Lily's bathroom looked like when we moved into our house in 2003 (in the days before we had a digital camera, as you can tell by the grainy picture shown above).
Among the things I hated: the cheapo plate-glass mirror that ran not only behind the sink, but on across the wall above the toilet, as well. No idea what the builder was thinking with that one. To add insult to injury, they had those round "Hollywood" light bulbs in a brass vanity fixture centered over the long mirror.
Everything was white and bo-ring. It looked out of date even though the house was brand new.
Ta-da! What do you think? It's a much happier little room now, that's for sure.
One of the first things we did was get that mirror out of there. That was possibly the hardest part of the makeover. My husband was determined to reuse it in the bathroom we're going to add in the basement, so we carefully carried the mirror all the way down the two flights of stairs, cursing and sweating the whole way. But when we got to the basement, we were so relieved to have reached our destination that we let it go too quickly. One corner hit the the concrete floor so hard that the whole thing shattered.
So, back up the stairs it went, out to the trash, and we braced ourselves for the inevitable 7 years of bad luck to come.
The story has a happy ending, though. At least the ugly mirror was gone. Look at how much better the bathroom looks with the new one! I think it was worth all the trouble in the end.
The new light fixture made a big difference, too. No more Hollywood lightbulbs!
We painted the walls a color called Craftsman White, which looks remarkably yellow despite its name (you may recall my story of painting the foyer Craftsman White and being horrified to discover it was a pale yellow–this is what we did with that can of paint instead).
I bought this cute little storage unit at Home Goods and hung it on the wall for washcloths and handtowels.
In the "garden" section of Michael's I found these cute and colorful outdoor candle holders (there are votives inside each one), as well as the flower hook that I hung next to the sink for handtowels. They were super cheap, less than $5 each, and my daughter loves them.
There's a really bright and mod-looking rug on the floor that I forgot to take a picture of. You'll have to use your imagination, I'm afraid. It has pink, orange, and green polkadots on a yellow background.
And finally, one of my favorite changes to the room was the addition of the crown molding that Handy Dave installed (you can see it in the first "after" photo). Crown molding always makes a big difference in a room. I'm addicted to it.
(Handy Dave is currently hanging crown in our dining room as we do a total remodel on it. We got the new hardwood flooring installed today. Pics of that makeover to come as soon as we're done!)
This bathroom is right next door to Lily's bedroom, which is yellow and pink, so we had to make them kind of go together. (I'll show you her sweet little room sometime if you're interested.)
So what do you think? Do you like it? I hope this gives you some ideas for your own bathroom projects. It doesn't take much money to make a big improvement in a small space!
If You're Hooked on Crown Molding:
If You're Hooked on Before & Afters: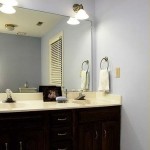 Have you got a flat, lifeless, plate-glass type of mirror like this in your bathroom? Have you ever wondered what it would look like with…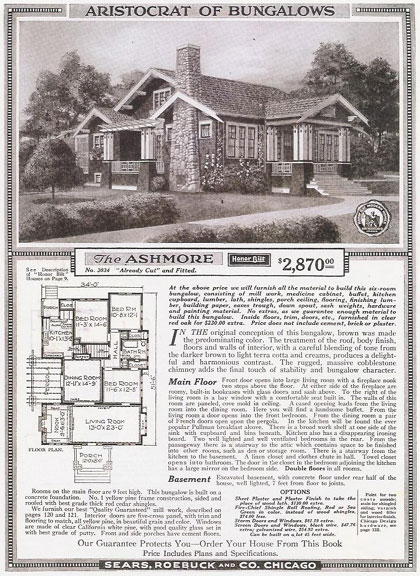 The Ashmore--the "Aristocrat of Bungalows"--was one of the Sears Honor-Bilt Homes sold through the catalog between 1916 and 1922 for between $1,648 to $3,632. It's…