Ihad an empty corner of my master bathroom underneath the window, so I put this bench there. The seat of the bench opens up, adding handy storage, but the natural wood tone blended into the wall color. The off-white pillows didn't help things, as you can see.
So I painted the bench black (this job took many more coats and much more time than anticipated, frankly), added a pair of simple, white curtain panels on a black rod, and found some inexpensive artwork at Target ($29). The IKEA pillows tie it all together (the pillows themselves were $6.99 and the fabric covers another $6.99, so I spent a total of $28 for both pillows). Here's how it looks now:
I have a lot more work to do in there, but this is a start!
Visit My House to see more, including how the Master Bathroom looks now: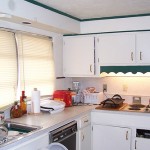 A reader named Aja gave her 1956 brick ranch a makeover, and I fell in love with her new kitchen. Here's how it looked when…
You know how much I love a good makeover. Well, when I saw what that talented twosome over at Ramblings of a Renovating Couple did…