I just discovered a fun new book called The House Always Wins by Marni Jameson. Not only is it filled with helpful advice for the do-it-yourself decorator, but it's laugh-out-loud funny, too. My favorite combination!
Some of the topics the book covers:
Why your house will never look like a model.
A sane person's guide to choosing flooring.

Cabinets are like Cabernet: the more you know, the more you spend!

Building character one doorknob at a time.

Why furniture shopping is so hard, and where to start.

Bargain hunting for the best deals.
I especially recommend the book to anyone who is moving, building, or struggling to pull together a cohesive look in their own home.
I've been trying to figure out how to review it for you, or share some of the things I've learned, but I hardly know where to begin. There's just so much good stuff in here! So here's what I decided to do. Ready?
I don't want to just write a single, "This is great! You've got to read it!" review. So I'm going to try something different. Every day this week I'm going to share some helpful decorating ideas and excerpts from The House Always Wins. By the end of the week you'll have a good idea of how fabulous it really is–and you'll be a lot smarter about decorating, too.
Look for these posts on Hooked on Houses this week:
Then on Friday I'm going to give the book away to one lucky Hooked on Houses reader. That's right. Pinch yourself. If your name is drawn, I will pop one in the mail and send it right to your front door. (See the details for entering below.)
–
Marni Jameson (shown here) has a weekly home design column that's read by more than 7 million readers. In The House Always Wins, she writes about the trials and tribulations of building and then decorating her new home. What's so great about the book is that she not only regales us with her personal adventures in decorating, but gives solid advice for handling similar situations ourselves. In other words, we have a chance to learn from her (often hilarious) mistakes!
Jameson is down-to-earth and realistic about what most of us can achieve without the help of a professional designer, stager, or stylist, and I find her honesty about it refreshing.
For one thing, she doesn't assume that we all have unlimited budgets and resources. She also points out that all of those fabulous magazine photos we drool over are actually airbrushed so that cords, light switches, thermostats, and all other imaginable "imperfections" are magically removed. We'll never be able to airbrush reality out of our own homes, so we might as well embrace it and learn to do the best with what we've got.
To enter the giveaway:
Leave a comment on this post by the end of the day Friday, March 21, 2008, and your name will be automatically entered. Bonus: 1) Tell me why you have to have the book or 2) Tell me why you're hooked on this website (yeah, flatter me!), and your name will be entered twice. I will announce the winner on Saturday, March 22.
You can visit Marni Jameson's website for more information. Or you can go straight to Amazon and buy it if you can't wait another minute to own it yourself.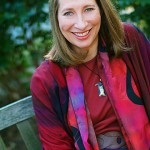 Well, it's been an exciting day here at Hooked on Houses. I just heard from Sarah Susanka, who writes the bestselling Not So Big House books. She…
I have a history of picking the wrong paint colors. There was the Craftsman White, which looked completely neutral on the chip but turned a pale yellow in our foyer.…