I'm crazy about porches.
The strange thing is that it's so hard to find houses with them any more. In our entire neighborhood, a subdivision less than 7 years old, there are only a handful of houses that have them. When we built ours, we paid the builder extra to change the front elevation and add a porch because I couldn't live without one. I keep hearing about a "porch revival," but around here, at least, builders haven't gotten the memo.
We couldn't afford a very big one. Extending the foundation and roofline by even a few feet is shockingly expensive. But ours is wide enough to fit a swing and a rocking chair and a couple of flower pots, so I'm happy. (I'm tempted to tell you that the one at the top of the post is mine, but it belongs to a home in the Hamptons.)
Here are some of the photos I've gathered of porches I like. I hope this provides you with a little inspiration to either build a porch of your own or decorate–and appreciate!–the one you have.
From Better Homes and Gardens:
A Craftsman Bungalow:
I found this on Springtree Road and loved the little porch tucked into the side under the arch:
The HGTV Green Home '08 is surrounded by porches on all sides (to see an interior tour of this beautiful home, click here).
The Victorians knew how to do porches! Here's one from Maryland:
This porch on an Italianate-style home is stunning:
Back porches and outdoor living spaces are growing in popularity, which thrills me. When I go on home tours, I can hardly wait to get to the backyard to see what sort of living space they've created. Every house at our city's Home-a-Rama show last summer had vast backyard living rooms, complete with fireplaces, kitchens, flat-screen TVs, you name it. Here are some of my favorites (several were from that home show; others are in homes currently on the market):
One of my favorite places to gawk at pretty porches is in Seaside, Florida:
This just in (5/08): I found this photo via Just Beachy of a porch that looks almost identical to the one above, view included. I love the blue picnic table:
See some of my favorite porches here: Front Porch Love.
If You're Hooked on Decorating: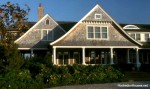 When a friend took me to see Something's Gotta Give on the big screen, I knew it was a Diane Keaton-Jack Nicholson romantic comedy. What…
Are you hooked on houses? More to tour: