I have to just take this moment to say how amazed I am that after only about 6 weeks in the blogosphere, Hooked on Houses has already attracted nearly 10,000 visitors. Wow. I really thought my mother might be my only reader, so I don't take a single one of you for granted! I thank you, and my mother thanks you.
I truly appreciate all of you who have stopped by, and especially those who come often and leave comments. It's been so much fun getting to know you. I recently read another blogger's plea for comments from her readers, telling them that their participation is really the only "pay" she receives for all of the time and effort she puts into her site, and I have to agree.
Your comments, which are creative, interesting, informative, supportive, and sometimes laugh-out-loud funny, are what keep me going. So keep 'em coming! There's no need to lurk–we're all friends here. We want to hear from you!
February was my first full month as a blogger, and it was a doozy. Here are the highlights so you can see if you missed anything. Now's the time to catch up because there's a lot more fun stuff coming in March!
We were intrigued by some interesting products and ideas for the home:
We toured some fabulous famous and historic homes:
–
 We oohed and ahhed over some amazing Before & Afters:
We talked about stainless-steel appliances:
We talked about our love of crown molding, too:
We were excited to hear from two of our favorite authors:
I interviewed

Daniel McGinn

, author of

House Lust

, and gave away two copies of his book.

Sarah Susanka

, author of the bestselling "Not So Big House" series, had some inspiring things to say in an exclusive post for Hooked on Houses readers.
And there was a lot more fun stuff I hope you didn't miss, like:
If this wasn't enough for you, check out what you missed in January!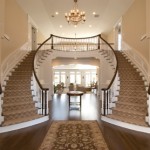 There are staircases that simply get us from one place to another. Then there are staircases like this that make a statement (which may be,…
I love black and white rooms like the one shown here (from a model home). I decorated my family room and kitchen similarly to this,…