Dark Roasted Blend asks: "Now, do you appreciate your iPod more? In the 50s you had to carry the CART with you, wherever you went."
You know I love me some retro, so I got a little crazy with excitement when I found this photo via bb-blog. The homemaker looks more excited and proud about her portable stereo than she does her Christmas dinner.
See that big black box on the top of the cart? That's what we used to call a record player, kids! (And I admit I'm old enough to have one in my basement, along with several wooden crates full of records that I'm unable to part with.)
Now, I'm not old enough to have one of these in my basement, so I have no way to explain what, exactly, it's doing on the hood of a car. Any thoughts?
Seriously, though, how fun is this pink clock radio from the '50s? They really liked the pink, didn't they? Remember the pink 50s kitchen I showed you in Retro Kitchens? This would've been perfect for that room.
To see more fab photos of retro radios and stereos, go to Dark Roasted Blend.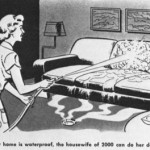 In the 1950s, they envisioned a future that was plastic and waterproof. The teeny-tiny caption says, "Because everything in her home is waterproof, the housewife of…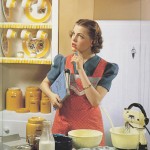 What do you think this young homemaker from the 1950s is thinking about? "I wonder if that gold refrigerator I bought will look dated in…