When I saw this today, it stumped me at first. What was it? It reminded me of the Skyline Blinds I showed you a few days ago–but with a view of Manhattan instead of Paris.
Take a guess in the comments.
Update: Well, I think I've tortured you all enough. I loved reading all of your creative guesses, though! Amy of Lemons&Roses came closest. Way to go, Amy!
It's the new Mirabilia line of range hoods from Falmec! I found them on Appliancist, an online magazine about appliance trends:
The breathtaking line boasts eight unique hoods that serve not only as functional kitchen appliances, but as decorative pieces and fashion statements, becoming true objects of modern furnishing. The entire range of Mirabilia design hoods feature beautiful colorful glass enclosure in stunning designs.
Here are a few of the other designs they offer:
Wild, huh? I'd love to see these in actual kitchens because I'm having a hard time visualizing how that zebra print, for example, would look over a stove. They're fun, though. Which is your favorite? I think the blue one, called "Ice," would be cool in a retro-modern type of kitchen. What do you think?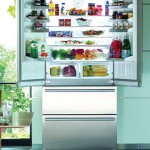 After reading several articles suggesting that stainless-steel appliances were "so 2007," I asked you whether or not you agreed. The poll just closed, so I thought you'd like to…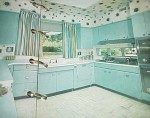 Remember this aqua-blue kitchen I showed you in the post about Retro Kitchens? It was a page out of a vintage Better Homes and Gardens…