"Futuro represents the modern, comfortable way of housing–practical coziness. Futuro is the dwelling of the future." (1968 brochure)
Remember the groovy Venturo Modular Home I showed you recently? Meet its predecessor, the Futuro, which was designed by the same forward-thinking Finnish architect Matti Suuronen in 1968. Whereas the Venturo promoted a "come for the weekend in your orange bikini" kind of lifestyle, the Futuro was more "come for the weekend in your silver space suit."
Suuronen designed the Futuro when he was commissioned to create a modern ski cabin. It was built out of fiberglass-reinforced polyester plastic and was light enough to be lifted to remote sites by helicopter, where the steel legs could adjust to any terrain.
Only 96 were ever built, and only 16 are in the U.S. The one at the top of the post is a rare one in Wisconsin (it's a vacation rental, so if you want, you can experience it first-hand). I can only imagine what some unsuspecting hikers must think when they come across this spaceship in the woods.
The interior of the Futuro was fully furnished and could accommodate eight people. Partitions could be used to create separate spaces for sleeping, and the seats in the living area converted into beds.
Here's a happy Futuro family hanging out in the built-in seating area of the living room, above (do you think the kids have Tang in those cups?), and a mom cooking up something in the streamlined kitchen, below:
Here's the interior of the Wisconsin Futuro's kitchen today, which is much less colorful (I wonder if these cabinets used to be red, too?):
Check out the cool purple fireplace. And the model's white go-go boots:
Here's a photo of a Futuro living room with a similar fireplace in it today (sadly, this one isn't purple, and it's hard to imagine anyone wearing white boots in here):
The Futuro House website explains that the Futuro house was short-lived because the high oil prices in the early '70s sent the price of plastic skyrocketing, adding, "I personally think it was the lack of closet space which really turned off most women…and of course the men could not convince them that this was a wise purchase."
More photos and information: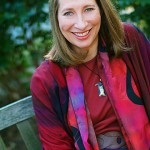 Well, it's been an exciting day here at Hooked on Houses. I just heard from Sarah Susanka, who writes the bestselling Not So Big House books. She…
See that tiny blue house wedged in between the white and red ones? It was built in 1830 and is only 7 feet wide. The…